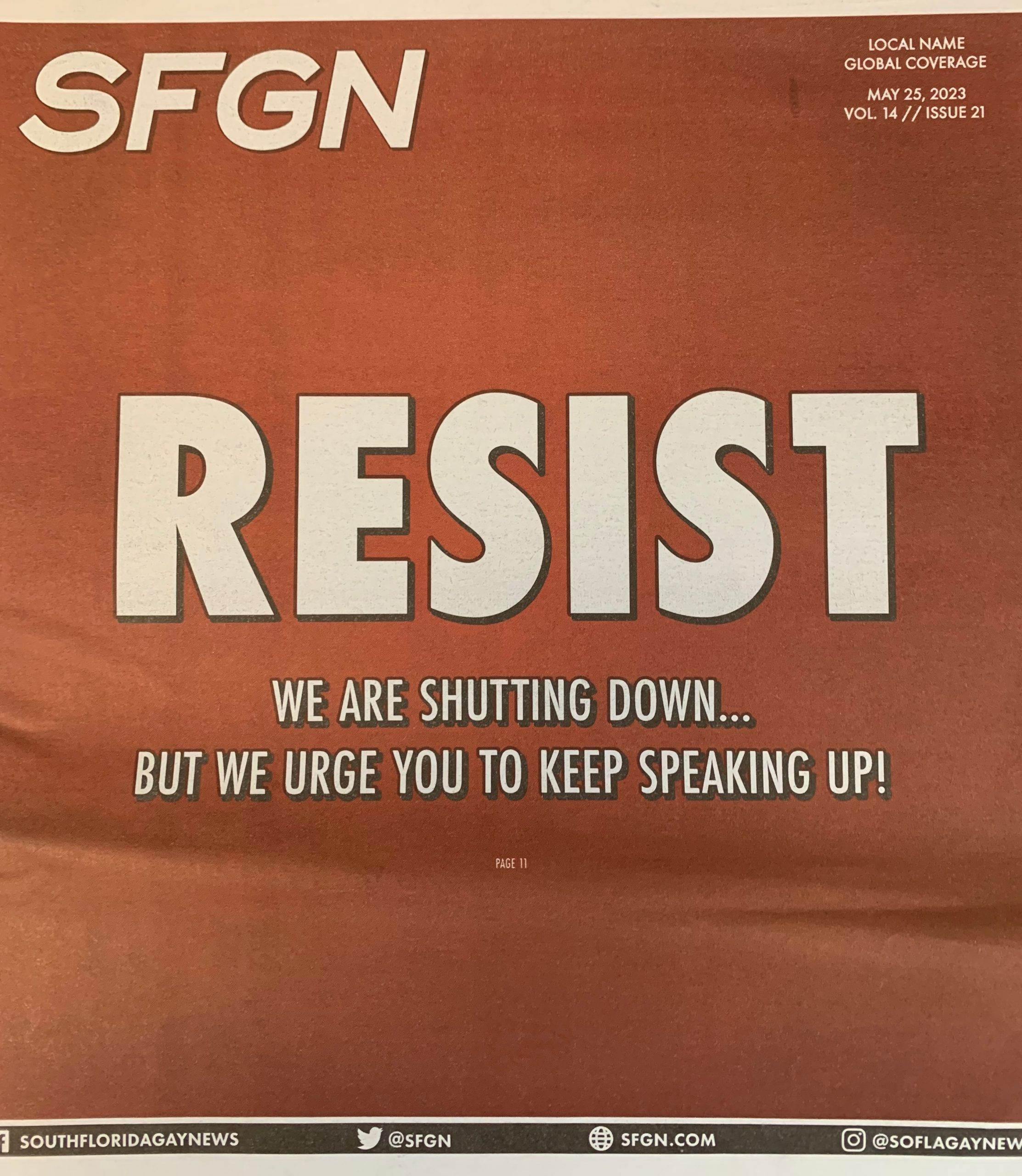 SFGN goes out on a sad but defiant note
by Fred Kuhr
"RESIST: We are shutting down … But we urge you to keep speaking up!"
On a sold brownish-red background, those were the last words on the front page of the final issue of SFGN, long known as South Florida Gay News.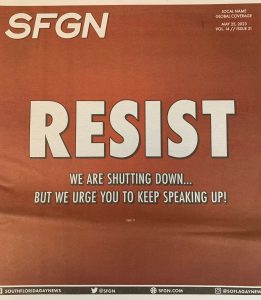 The Wilton Manors-based newspaper's last issue was dated May 25, 2023, and came in the middle of its 14th year of publication.
The news follows the April 13 death of founder and longtime publisher Norm Kent. "When Norm Kent died in April, we had hoped to continue his legacy of hard-nosed journalism through the South Florida Gay News," editor and newly named publisher Jason Parsley wrote to readers on behalf of the entire SFGN staff. "But we quickly realized that would not be feasible. This was not an easy decision, but in the long run it's the best decision for us and the community.
"So this is a quick and short note to say thank you to our readers, our advertisers and all those who believed in us. We thank you from the bottom of our hearts. SFGN may be gone. But we are not. Stay tuned."
"Stay tuned" was a reference to the since-revealed new publication Out South Florida (OUTSFL), launched earlier this month by Parsley and much of the former SFGN staff to fill the hole left by the longtime newspaper's departure.
"Last week the South Florida Gay News shutdown. This week a new newspaper is born from its ashes. Welcome to Out South Florida," Parsley wrote on the new newspaper's website.
The last few issues of SFGN devoted quite a bit of space to chronicling the anti-LGBTQ antics of Florida Gov. Ron DeSantis, including one issue featuring him on the cover with the headline: "Mean Girl: Why are you so obsessed with us?" Another recent issue's front page proclaimed: "Greetings from Florida: Where freedom goes to die."
The newspaper's April 20 issue celebrated Kent's life, with a lengthy obituary; a piece detailing SFGN's founding by Kent and co-founder Per Angelo; a foreword written by former SFGN art director Brendon Lies to a book Kent was working on compiling his old columns; a guest column by Gideon Grudo, a former editor in chief at SFGN; and an article showcasing how members of the local community remembered Kent.
A page was also devoted to satirical front pages that were never meant for publication, many of them poking fun at Kent himself. One of these fake covers, about Florida's notorious hurricane season, stated, "Norm Kent Blows." According to SFGN staff, "Norm loved them all."
In keeping with Kent's sense of humor, the memorial issue also featured a real letter to the editor from Andrew R. Brent, past president of Log Cabin Republicans of Broward, with the headline, "SFGN co-founder Norm Kent isn't dead."
Brent's letter, pointedly criticizing SFGN for its coverage of Donald Trump and other conservatives, started, "Guaranteed this won't be published. SFGN co-founder Norm Kent didn't die. He lives on in current editor Jason Parsley continuing to publish lies, blocking a conservative voice, perpetuating hysteria misleading the gay community with false narratives in his 'gay rag.'"
But the letter was published. And perhaps Kent would have been amused.
IN THE NEWS
Volume 25
Issue 3