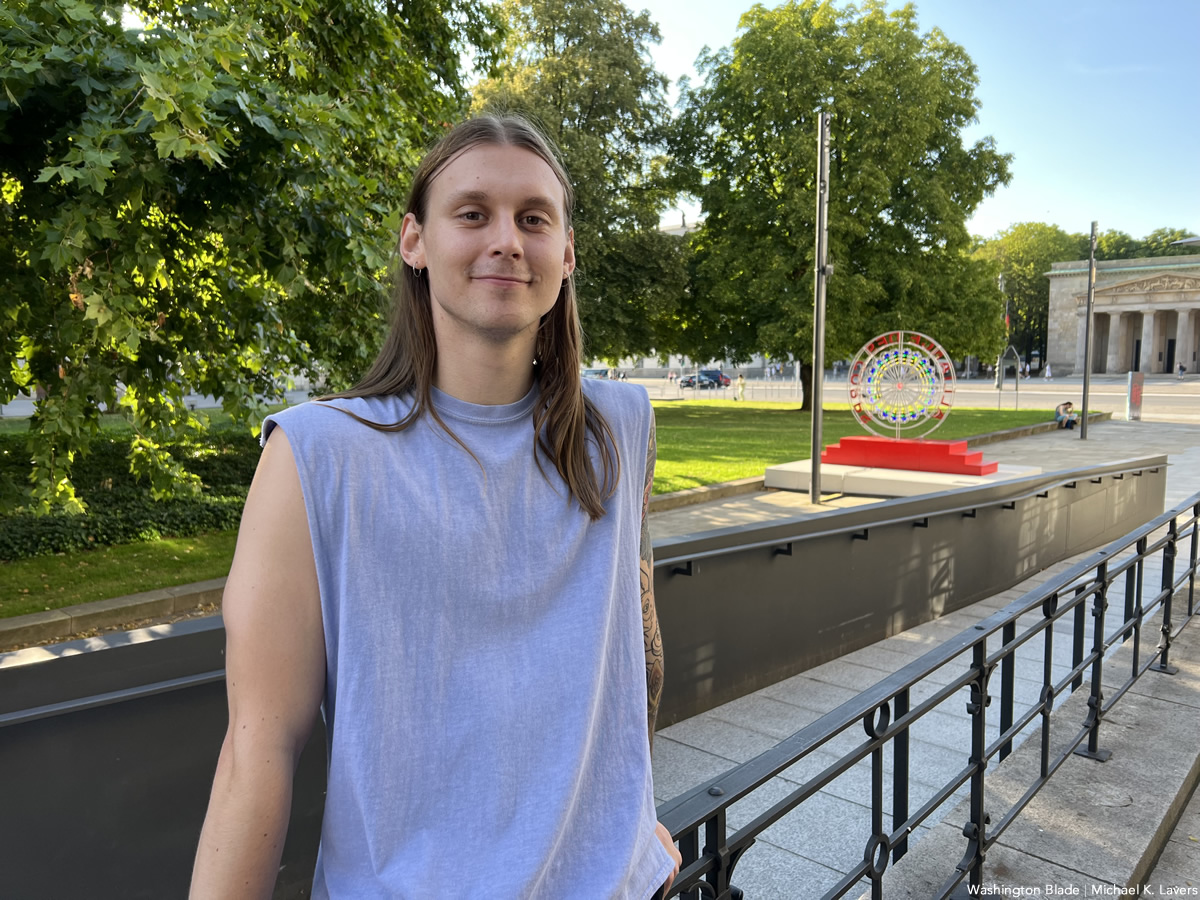 Top 10 international LGBTQ stories of 2022
by Michael K. Lavers
(The following piece was written by the Washington Blade's international editor and appeared in the December 28, 2022, issue of the newspaper. It appears here with permission.)
WNBA star Brittney Griner's arrest in Russia, Brazilian President Jair Bolsonaro's defeat in his country's presidential election and the extension of marriage and other rights to LGBTQ and intersex people around the world made headlines over the past year. Here are the top international stories of 2022.
10. World Pride 2025 cancelled, moved to D.C.
The decision to cancel WorldPride Taiwan 2025 sparked widespread criticism among the island's LGBTQ and intersex activists.
WorldPride Taiwan 2025 had been scheduled to take place in Kaohsiung, but organizers in August announced its cancellation. The announcement said InterPride, a global LGBTQ and intersex rights group that organizes WorldPride events, had asked organizers to remove Taiwan from the event's name. InterPride in a subsequent interview with the Washington Blade disputed this claim.
InterPride on Nov. 3 announced D.C. will host WorldPride 2025.
9. Kenya's landmark intersex rights law takes effect
A landmark law that granted equal rights and recognition of intersex people in Kenya took effect in July.
The Children Act 2022 allows intersex people to select an "I" gender marker. The law, among other things, also requires intersex children to have equal access to education, medical care and other basic services and protects them from so-called sex normalization surgeries without a doctor's recommendation.
The law took effect roughly five years after Kenya became the first country in Africa to count intersex people in a census.
8. British government removes trans people from bill to ban conversion therapy
The British government in April cancelled an LGBTQ and intersex rights conference after advocacy groups announced they would boycott it over then-Prime Minister Boris Johnson's decision to exclude transgender people from a bill to ban so-called conversion therapy.
The Safe to Be Me Conference was to have taken place in London from June 29-July 1. A British government spokesperson on April 5 confirmed the conference's cancellation.
Nick Herbert, a member of the British House of Lords who advised Johnson on LGBTQ and intersex issues, in a statement described the conference's cancellation as "damaging to the government and to the U.K.'s global reputation." Herbert added it is "also an act of self-harm by the LGBT lobby."
7. Former British colonies decriminalize homosexuality
Four former British colonies in 2022 decriminalized consensual same-sex sexual relations.
Lawmakers in Singapore on Nov. 29 repealed Section 377A of the country's penal code that criminalized homosexuality. Singaporean MPs on the same day also approved an amendment to the city-state's constitution that defines marriage as between a man and a woman.
The Barbados High Court on Dec. 12 struck down the country's sodomy law.
A judge on the High Court of Justice in St. Kitts and Nevis on Aug. 29 decriminalized consensual same-sex sexual relations in his country. High Court Judge Marissa Robertson, who sits on the Eastern Caribbean Supreme Court, earlier in the year ruled sections 12 and 15 of Antigua and Barbuda's Sexual Offenses Act 1995 are unconstitutional.
6. Marriage equality legalized across Mexico, Cuba, Chile, Switzerland, Slovenia
Several countries around the world extended marriage rights to same-sex couples in 2022.
Cubans on Sept. 25 approved a new family code that includes marriage equality.
Lawmakers in Slovenia on Oct. 4 passed a bill that extended marriage and adoption rights to same-sex couples. Switzerland's marriage equality law took effect on July 1.
Chile's marriage equality law took effect on March 10. Same-sex couples can legally marry throughout Mexico after lawmakers in Tamaulipas state on Oct. 26 approved a marriage equality bill.
A court on Dec. 6 ruled Aruba and Curaçao must allow same-sex couples to marry.
5. Brazilian President Jair Bolsonaro defeated
Former Brazilian President Luiz Inácio Lula da Silva on Oct. 30 defeated incumbent President Jair Bolsonaro in the second round of the country's presidential election.
Lula Da Silva, who was Brazil's president from 2003-2010, defeated Bolsonaro in the election's first round that took place on Oct. 2, but neither man received at least 50 percent of the vote.
Bolsonaro, a former congressman and Brazilian Army captain, has faced sharp criticism because of his rhetoric against LGBTQ and intersex Brazilians, women, people of African and indigenous descent and other groups. Bolsonaro, among other things, has encouraged fathers to beat their sons if they are gay and falsely claimed people who are vaccinated against COVID-19 are at increased risk for AIDS.
4. Marriage equality becomes part of U.S. foreign policy
The special U.S. envoy for the promotion of LGBTQ and intersex rights confirmed that the Biden Administration's support of LGBTQ and intersex rights abroad now includes marriage equality.
"The administration acknowledges that married or not, LGBTQI+ people, couples and their families deserve full equality, access to legal protections and should have their families legally recognized," said Jessica Stern during an exclusive interview the Blade published on June 1. "All of this is consistent with President Biden's commitment to LGBTQI+ equality and marriage equality specifically."
President Biden in February 2021 signed a memo that committed the U.S. to promoting LGBTQ and intersex rights abroad as part of his administration's overall foreign policy. The White House four months later named Stern, who was previously the executive director of OutRight International, to her position.
3. LGBTQ issues overshadow World Cup
Qatar's LGBTQ and intersex rights record overshadowed the 2022 World Cup that ended on Dec. 18.
Consensual same-sex sexual relations remain punishable by death in Qatar. A report that Human Rights Watch published in October noted several cases of "severe and repeated beatings" and "sexual harassment" of LGBTQ and intersex people while in police custody from 2019 and September 2022.
World Cup Ambassador Khalid Salman in November described homosexuality as "damage in the mind" during an interview with a German television station. U.S. Secretary of State Antony Blinken during a Nov. 22 press conference in Doha, the Qatari capital, criticized FIFA over its threat to sanction European soccer teams if their captains wore "one love" armbands during the World Cup.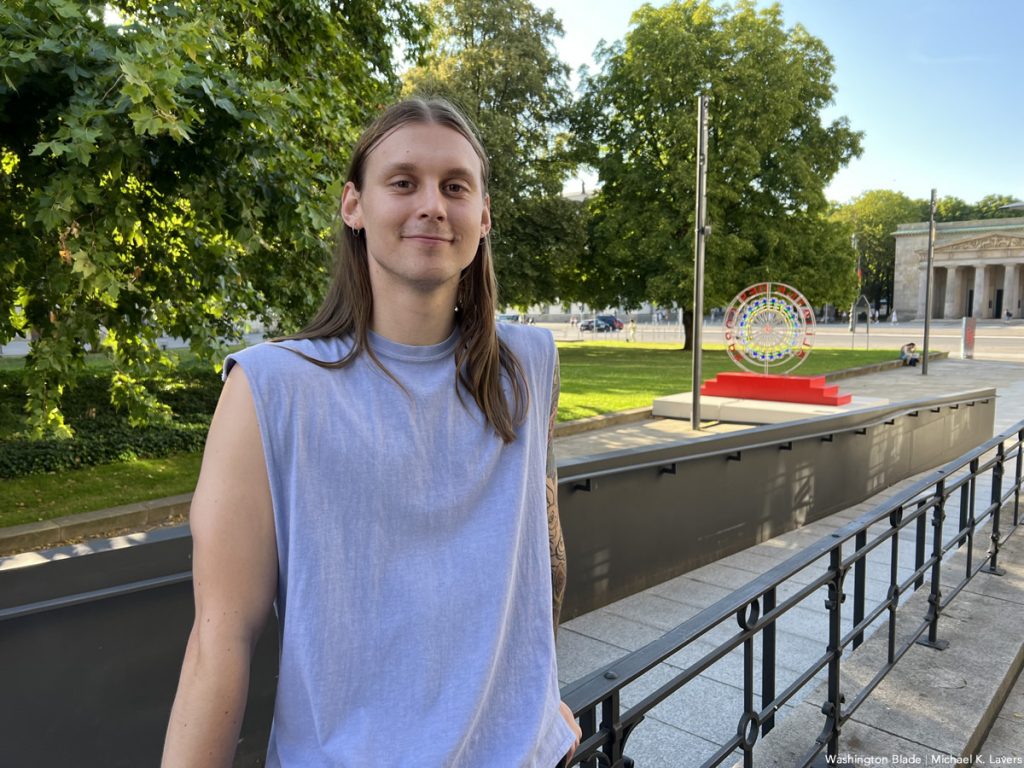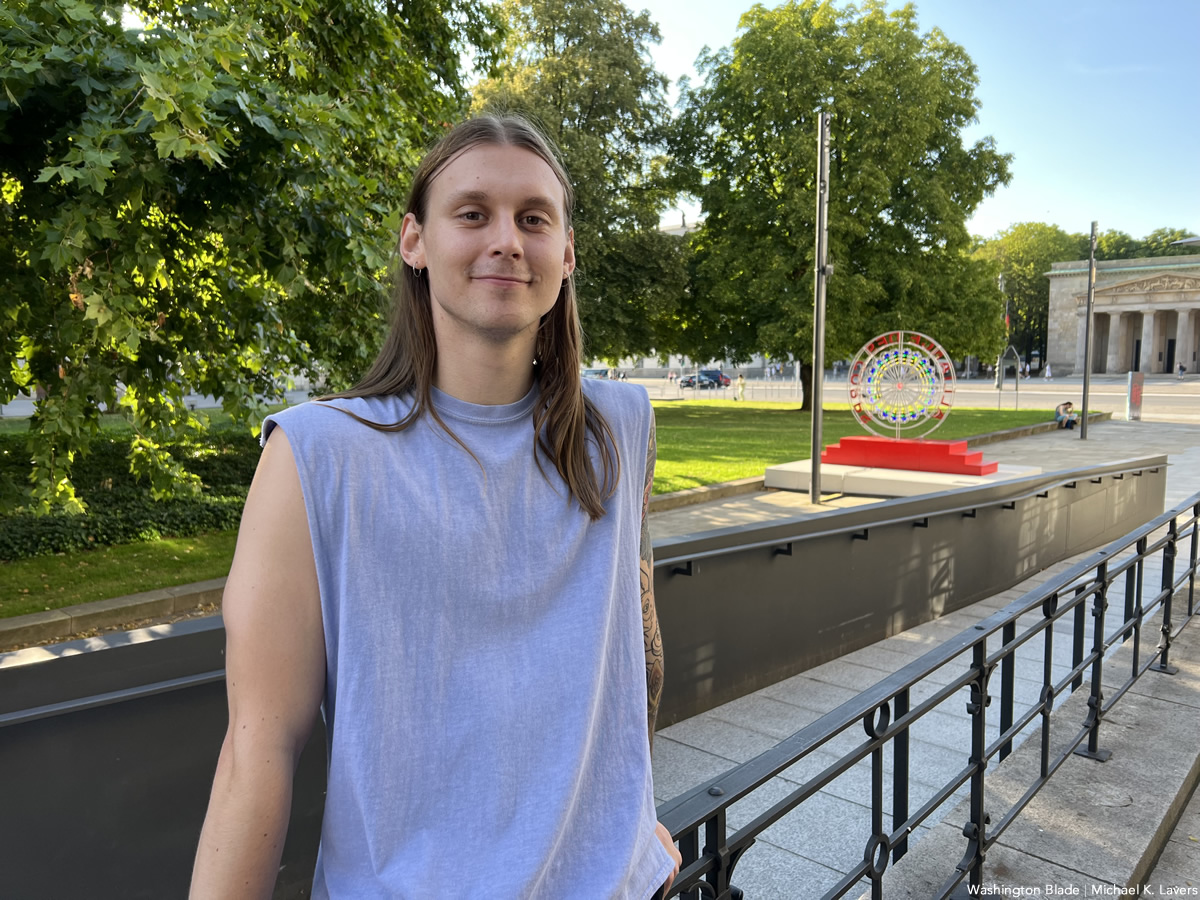 2. LGBTQ Ukrainians flee war
LGBTQ and intersex Ukrainians are among the millions of people who have fled their country after Russia launched its war against it on Feb. 24.
Dmitry Shapoval, a gay man with HIV, lived in Kyiv, the Ukrainian capital, until he swam across a river and entered Poland in March. Shapoval now lives in Berlin with his cat and has begun the process of resettling in Germany. "I feel very secure here," Shapoval told the Blade on July 22 during an interview in Berlin.
LGBTQ and intersex activists from Ukraine were among those who took part in Berlin's Christopher Street Parade that took place a day after Shapoval spoke with the Blade. Kyiv Pride, Kharkiv Pride and Insight are among the myriad organizations that continue to support LGBTQ and intersex Ukrainians who remain in the country.
1. Brittney Griner detained in Russia
WNBA star Brittney Griner returned to the U.S. on Dec. 9 after Russia released her in exchange for a convicted arms dealer.
Griner — a Phoenix Mercury center and two-time Olympic gold medalist who is a lesbian and married to her wife, Cherelle Griner — had been serving a nine-year prison sentence in a penal colony after a Russian court convicted her on the importation of illegal drugs. Customs officials at Moscow's Sheremetyevo Airport in February detained Brittney Griner after they found vape canisters with cannabis oil in her luggage.
Russia on Dec. 8 released Brittney Griner in exchange for Viktor Bout, a Russian arms dealer who had been serving a 25-year prison sentence in the U.S.
SPECIAL REPORT
Volume 24
Issue 11