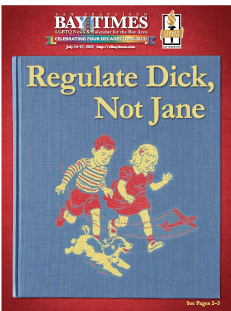 SF Bay Times wants to "regulate Dick, not Jane"
by Fred Kuhr
The San Francisco Bay Times often uses its full-page cover image to make a political point, as it did back in April when it splashed the official portraits of former President and First Lady Barack and Michelle Obama on its page one as signs of hope for the LGBTQ community.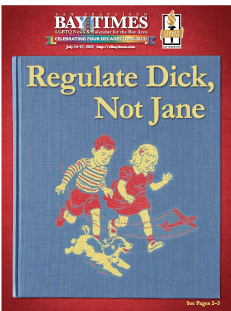 More recently, in its July 14, issue, the newspaper ran an in-house graphic showing a book cover resembling the old Dick-and-Jane children's books. But this time, the title reads, "Regulate Dick, Not Jane."
This was a direct response to the U.S. Supreme Court's Dobbs decision overturning the 1973 reproductive-freedom decision known as Roe v. Wade.
"The onus of birth control usually falls on women, and now that access to legal and safe abortion is under tremendous threat in many states, it is long overdue for men to step up and share responsibility," the newspaper's editorial board wrote. "But how can men — including many who are bisexual and otherwise LGBTQ+ identified who are sexually active with women — do so in ways that will truly make a positive difference?"
"Male contraception options are currently restricted to vasectomy and condoms, and are thus extremely limited as compared to female options," said lead researcher Tamar Jacobsohn of the Contraceptive Development Program at the Eunice Kennedy Shriver National Institute of Child Health and Human Development, as quoted in the Bay Times. "Development of an effective, reversible male contraceptive method will improve reproductive options for men and women, have a major impact on public health by decreasing unintended pregnancy, and allow men to have an increasingly active role in family planning."
The newspaper called attention to two experimental male contraceptive pills that are currently being studied. The drugs "appear to effectively lower testosterone [which lowers sperm counts] without causing unacceptable side effects, according to a new study that was presented at ENDO 2022, the Endocrine Society's annual meeting in Atlanta."
In the same issue, the newspaper ran an "exclusive" page-two interview with Bay Area abortion rights activist Shannon Olivieri Hovis, the director of the California chapter of NARAL Pro-Choice America. BAR co-columnists and married couple Stuart Gaffney and John Lewis also devoted their column to the Dobbs decision, addressing the extent to which such issues as contraception and marriage equality might also be in peril.
The editorial board quoted bioethicist Lisa Campo-Engelstein, who wrote over a decade ago in the journal Medicine and Society, "[W]e need both a change in technology — the development of male long-acting, reversible contraceptives — and a change in ideology — the belief that both women and men should be responsible for contraception — to achieve the more just contraceptive arrangement."
Concluded the board, "Contraceptive justice needs to be a priority, particularly at this post-Dobbs time."
IN THE NEWS
Volume 24
Issue 5