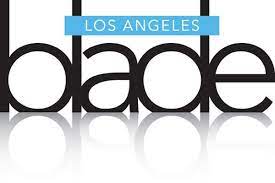 The road ahead as the Los Angeles Blade hits the five-year mark
by Brody Levesque
(Brody Levesque is Out Editor of the Los Angeles Blade. The following piece appeared in the April 8, 2022, issue of the newspaper, and is reprinted here with permission.)
According to numerology, the number five symbolizes freedom, curiosity, and change — a desire to have adventures and explore new possibilities. Five years ago, for transplanted New Yorker Troy Masters his new adventure was to start up another LGBTQ+ publication. Joining him in the quest to explore new possibilities was veteran award-winning West Hollywood-based LGBTQ+ journalist Karen Ocamb.
Partnering with America's oldest LGBTQ+ newspaper, The Washington Blade, adapting "Blade" as part of its masthead, Masters and Ocamb set out to ensure that the voices of greater Los Angeles' LGBTQ+ community were amplified with the launch of the Los Angeles Blade.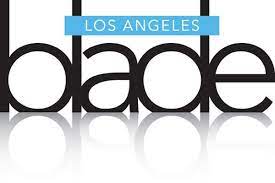 The modern reality is that although new journalistic ventures are launched continuously on the internet yearly, legacy media like newspapers and broadcasters are often struggling to adapt to a new communications environment. Masters and Ocamb believed strongly that media startups with a loyal community have the ability to succeed as long as they work hard, evolve and stay focused on the correct course.
The key though was a "loyal community," and the Blade set out to build a solid and mutually beneficial relationship with Los Angeles' LGBTQ+ community.
An ancient proverb reads, "The proof of the pudding is in the eating," which has been often been shortened to "the proof is in the pudding." What that meant was that you had to try out food to know whether it was good. News is not unlike food insofar as it too is "consumed" and the loyalty of readers/viewers/listeners relies on that very principle.
Along the way come examples of "proof" as evidenced last fall by now former Los Angeles Blade editor Karen Ocamb being awarded Journalist of the Year for 2020 at the 63rd annual Los Angeles Press Club's Southern California Journalism Awards gala.
The LA Press Club judges noted in their decision bestowing the award, "Karen Ocamb's passionate reporting of the struggles of the LGBTQ community and journalists covering LGBTQ issues during the pandemic earns her a Print Journalist of Year award."
She was also a runner-up in two other categories, securing second place in "Pandemic Reporting Digital (Online)" and "Commentary: on political, social, cultural, investigative, judicial, economic or other serious subjects."
Making a difference is the credo of the paper and is the underlying mission mandate by its publisher and editors. In 2022, Masters was honored by the City of West Hollywood with the prestigious Rainbow Key Award for his role in establishing the Los Angeles Blade and for leading "Pride Walk," an unofficial Pride celebration during June 2021's COVID shutdown.
Dedication to community — a sense of belonging and being part of more than just the media landscape in Los Angeles and Southern California as a whole — sometimes led the Blade to cover stories that have had far reaching impact in the United States and abroad.
As the government of Afghan President Ashraf Ghani collapsed and he fled the country in August 2021, chaos had descended on the Afghan capital city. Among the Americans who were trapped in the suburban areas of Kabul under Taliban control was Josie Thomas, 32, a transgender government contractor for the U.S. State Department and former U.S. Air Force Sergeant. Thomas, along with several others, was trapped at the diplomatic support facility known as Camp Alvarado located on the outskirts of the capital city's airport.
Thomas, in a series of text messages provided to the Blade on background by a colleague of hers, relayed that she and others were aware of the immediate presence of the Taliban insurgents, which was communicated at the exact time Afghan security forces abandoned their posts. The texts also expressed frustration at the lack of communication regarding the lack of a presence of U.S. military forces to assist.
The Blade in turn reached out to U.S. officials at both the U.S. State Department and the Pentagon, which ultimately led to one of her colleagues communicating with Thomas, receiving a text from her stating that elements of the United States Army's 82nd Airborne Division had arrived at the Camp Alvarado diplomatic support facility. She was then airlifted out the next day.
Ocamb was indefatigable in her pursuit of stories that made a difference and contributed to the well being of the LGBTQ+ community. Her coverage of the battle over former President Trump's ban on transgender people in military service was comprehensive and nuanced.
One of the most read and shared articles was her piece entitled "Trump's trans military ban now policy," which detailed the harsh reality of the policy and the far-reaching negative impact it would have, especially on the trans community.
In July 2020, at the same time the Washington Blade's White House reporter Chris Johnson won the GLAAD Award for Outstanding Newspaper Article, Ocamb received a special recognition award from GLAAD. "After initially starting her career at CBS News and producing the 1984 Olympics in Los Angeles, Ocamb joined the LGBTQ press in the 1980s after more than 100 friends died from AIDS," GLAAD noted, adding, "she has since become a leading force and champion for LGBTQ media. She is known for her smart, fair, and professional writing style as well as her staunch dedication to shining the spotlight on underreported LGBTQ people and issues."
True to that spirit mentioned by GLAAD, Ocamb, in another top-trafficked and read piece, covered the story of West Hollywood's Louise Hay, an advocate for unconditional love and forgiveness during the height of the AIDS crisis, who died of natural causes at age 90. "Louise Hay and her Hay Ride gave spiritual support and acceptance to so many in the early days of the AIDS epidemic," says gay former Entertainment Tonight executive producer Brad Bessey. "She was so important to our movement — preaching love over fear, and healing, hope and heart over hopelessness."
Beyond the journalistic efforts of Ocamb and the other writers, including me, the current editor and a veteran journalist, the Los Angeles Blade reached out with community events it sponsored and promoted.
On June 27 of last year for example, the Los Angeles Blade honored and recognized the achievements of LGBTQ+ students, faculty, staff, and administrators of the Los Angeles Community College District (LACCD) as about 75 invited guests gathered at West Hollywood's Le Parc Suite Hotel's Skydeck rooftop lounge and pool area to celebrate the LGBTQ+ students, and celebrate the creation of a scholarship program between the Los Angeles Blade and LACCD.
Previously the Blade had highlighted LACCD as it held its second annual "Lavender" graduation ceremony noting the critical support that the LACCD renders the LGBTQ+ community's economically disadvantaged students.
Sometimes though news can also be a sobering reminder of the challenges that the LGBTQ+ community faces daily. Closer to home, a dynamic young person who had assisted publisher Masters at LA Pride in 2018, Casey Hoke, a transgender artist, activist and national public speaker dedicated to helping others combat marginalization, died in Pomona, according to a family statement on his Facebook page. It was later revealed he had died as the result of suicide.
Masters reported the death himself writing: "My younger brother Casey Hoke passed away yesterday in the Los Angeles area," Hoke's brother Ryan Benjamin Hoke said in a statement. "My family is heartbroken. We ask for privacy, but at the same time want to make sure Casey's friends and connections know."
Ryan Benjamin Hoke later told the Los Angeles Blade: "Casey lost his battle with mental illness."
Hoke, 21, was well known in the national trans community, particularly among the younger generation for his dedication to the LGBTQ community, especially in his art and in art history. He was also a Point Foundation scholar and worked closely on trans rights with GLSEN. Hoke came out as a transgender male in high school and worked as an organizer and peer educator at his high school's Gay/Straight/Transgender Alliance.
Reaching and building a core audience/readership in today's digital age is difficult at best and a virtual nightmare at worst. Yet, since 2017, the Blade has built an increasingly loyal and interactive base.
In the era of a two-year long coronavirus pandemic, which nearly caused the Blade to cease publication as advertising revenue dried up, that loyalty brought forth a unique partnership with the Ariadne Getty Foundation. The focus of the Ariadne Getty Foundation has been shoring up LGBTQ organizations, such as the Los Angeles LGBT Center and GLAAD. Getty joined the board of directors of the latter in 2016 and last year at the World Economic Forum in Davos she pledged $15 million to the organization, which focuses on media and how Americans as a culture can rewrite the script for LGBTQ acceptance.
The Blade kept publishing and in fact was the only LGBTQ+ publication in the United States to publish daily stories about the coronavirus pandemic. In addition to Ocamb's reporting, I worked to establish a de facto "virtual" Blade Sacramento Capital Bureau, attending every press conference held by Gov. Gavin Newsom and Dr. Mark Ghaly, the secretary of the California Health & Human Services Agency, and then writing daily articles to inform readers as to the latest and often critical updates on the battle with COVID-19.
Standing out in the reporting was the fact the COVID-19 pandemic revealed deep-seated inequities in health care for communities of color and amplified social and economic factors that have contributed to those communities being hit hardest. Additionally, there was virtually no collection of data for the LGBTQ+ community.
That lack of data collection frustrated and angered State Sen. Scott Wiener (D-San Francisco), who authored a bill last year that passed through the legislature and was signed by Newsom last fall that mandates gathering sexual orientation and gender identity data related to COVID testing in California. The Blade with its reporting and presence at the aforementioned press conferences along with Wiener's staff kept the pressure up to get that law passed.
"We're one year into the pandemic, and LGBTQ people continue to be erased in our public health response to COVID-19 — similar to our invisibility throughout history. No government is successfully tracking COVID-19 cases in the LGBTQ community, despite a law I wrote mandating that California do so," Weiner told the Blade. "And, we now know that LGBTQ people are more vulnerable to COVID-19. We've also just learned that vaccination demographic data doesn't include LGBTQ data. It is simply shocking that in 2021, progressive health agencies continue to forget about our community," he added.
The Blade has also combined forces with other publications in unique media partnerships in much smaller markets that have resulted in critical stories receiving notice that is well deserved. One such story was entitled "Gay university student critically injured while passenger on Amtrak" written by Bob Conrad, editor and publisher of ThisIsRenoMedia LLC.
Aaron Salazar was on an Amtrak train traveling from Denver to Portland, but mysteriously ended up in a coma at a Nevada trauma hospital instead. According to the Truckee California Police Department's Detective-Sergeant Danny Renfrow, sometime shortly before noon on May 15, following Salazar's text message, the 22-year-old gay Portland State University junior was found in critical condition by railroad workers lying beside the Union Pacific Railroad's right-of-way property within the town's corporate limits. Aaron Salazar was traveling on Amtrak when he was critically injured.
Along the U.S.-Mexico border, Richard Montenegro Brown, editor of the Calexico Chronicle and Holtville Tribune, longtime community newspapers, wrote of the still unsolved murder of Oliver or Poe Black, a "two-spirit" transgender male of Wyandot Native American descent, in the Slab City area of the Imperial Valley.
The two-part series in the Blade was a comprehensive look at a troubling case detailing that months after the body of a 21-year-old transgender man, Poe Delwyn Black, was pulled from a canal north of Slab City riddled with stab wounds, investigators have shifted the theater of the murder probe in two directions — Black's home state of Tennessee and the Pacific Northwest.
Probably, though, the best indicator of the worth of the Blade as an integral part of the community over the past five years is borne out by the statistics:
• 234 issues
• Millions of copies distributed in print
• 2,350 advertising pages
• 6,000,000 page views online
• 3,000 percent increase in web traffic over past year
• 8,448 articles published
• 14 in-person live events
• 300+ editorial contributors
• 100s of photographers
As the Blade marks its fifth year and looks to the future, there is a solid base of its accomplishment. According to respected professional journalism data, information, publicity, and portfolio site for the media, Muck Rack, the Los Angeles Blade ranks 26th in the Top 50 of all LGBTQ+ media organizations globally in traffic online, and of the Top 30 LGBTQ+ publications in the U.S., the Blade is number 17.
The future is good, in fact, if the Blade was celebrating a fifth wedding anniversary the appropriate gift would be something crafted from wood. Instead, the Blade will simply "knock on wood," celebrate, and then move forward.
GUEST COMMENTARY
Volume 24
Issue 4