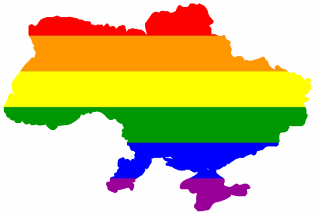 Ukraine coverage a focus for some LGBTQ media
by Joe Siegel
Many, but not all, LGBTQ publications in the United States are devoting a lot of attention to the ongoing conflict in Ukraine.
Gay City News in New York City, for example, is covering the war in Ukraine with a joint emphasis on the perspective of LGBTQ Ukrainians in New York as well as queer people back in Ukraine.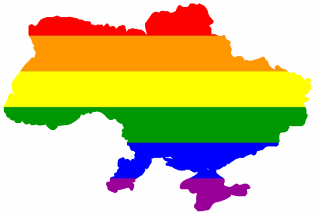 "In our recent coverage, we interviewed LGBTQ Ukrainians at a demonstration at the Stonewall Inn and talked to people in Ukraine — including an out member of the Ukrainian Armed Forces and a gay individual in western Ukraine who fled Russian persecution in the country's east," said Editor Matt Tracy.
Tracy's February 27 story featured the headline, "Queer Ukrainians band together in the face of war."
"From Kyiv to New York City, LGBTQ Ukrainians are standing up for their independence," Tracy wrote. "Queer Ukrainian activists in New York City hosted a solidarity demonstration outside the Stonewall Inn on February 27, while their LGBTQ friends back at home are speaking out about the perilous situation on the ground as Russian forces bombard the nation with support from Belarus."
New York City is home to the largest Ukranian community in the United States.
The Washington Blade ran a February 24 story with the headline, "LGBTQ Ukrainians will do our best to resist Russia."
"I think the international community needs to realize that it's not just some war in Eastern Europe," said Olena Shevchenko, the chair of Insight, a Ukrainian LGBTQ rights group. "It is the start of a huge international crisis and possible war all over Europe. The Russian president clearly showed he doesn't care about international obligations, rules or sanctions anymore. He will continue and never stop."
Another story, headlined "LGBTQ Ukrainians weigh in on Russian aggression," ran on February 23. "Taras Karasiichuk, a leader of the Ukrainian LGBTQ community in Kyiv, spoke with the Blade by phone Monday," wrote reporter Brody Levesque. "Karasiichuk in 2012 had been viciously attacked by anti-LGBTQ Ukrainians opposed to his efforts as an activist for LGBTQ rights organization Gay Alliance Ukraine and also as the head of the Kiev Pride 2012 organizing committee."
San Francisco's Bay Area Reporter has not featured many stories so far, but has included a call for donations to help queers in Ukraine from the Rainbow World Fund, an LGBTQ humanitarian group based in San Francisco, said news editor Cynthia Laird.
"Our international news columnist has messages out to LGBTQ Ukrainians, so we'll likely run something when she hears back," Laird noted.
The March 2 edition of the Philadelphia Gay News featured a story by Victoria Brownworth with the headline "Ukraine, Russia and the Fight for LGBT+ Freedom."
"On February 27 there was a solidarity protest outside the Stonewall Inn in New York City," Brownworth wrote. "LGBTQ Ukrainians, Ukrainian Americans and those sympathetic to Ukraine after the Russian invasion gathered, some draped in the Ukrainian flag and carrying signs reading 'Save Ukraine/Stop Putin.'"
The Dallas Voice took a different approach on the subject with a March 4 first-person account entitled, "A statement from a 'Russian gay guy.'" The author, who identifies as LGBTQ, was not identified.
"I'm crying. I'm terrified. I'm ashamed. By simply writing this letter, I'm risking my life and my freedom. The only thing I can't risk is my future, because I don't have one anymore — all destroyed by a single person, the dictator of Russia. But my concerns are nothing right now, because my country has started a war in Ukraine. My problems are nothing as long as the bombs are falling on Kharkiv, Kyiv and lots and lots of other peaceful cities of Ukraine. I have to make this statement.
"I see war in real time, death and suffering in Ukraine, and, at the same time, I see my country become something between North Korea and Germany of 1939. Not the best place to be an LGBT+ person. Right now, there is absolutely nothing more important than stopping this war, and we all should do absolutely everything that's in our power to do it."
IN THE NEWS
Volume 23
Issue 12