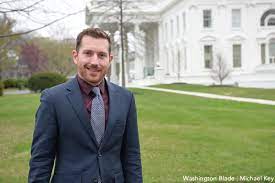 Washington Blade reporter faces backlash over Hawley thirst tweet
by Joe Siegel
Journalists today are often encouraged to use social media in order to promote their reporting or keep in touch with readers. However, sometimes a cheeky tweet can fall flat.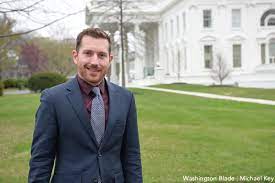 Case in point: A recent tweet from Washington Blade political journalist Chris Johnson praising the appearance of anti-gay Sen. Josh Hawley, a Missouri Republican, caused a stir on social media.
"I'm on Capitol Hill and just saw Sen. Hawley walk by," Johnson tweeted on April 26. "His chest is so built you can see it protruding from underneath his suit. I'm sorry but it's true."
LGBTQ website Queerty first reported on the blowback. "The tweet came completely out of nowhere and left many people wondering: Why is the well-respected chief political reporter for one of the oldest LGBTQ newspapers in the country publicly thirsting over one of the most homophobic members of Congress?"
Queerty made particular mention of Hawley's staunch opposition to LGBTQ rights. "In addition to opposing the Equality Act, Hawley criticized the Supreme Court's ruling on banning discrimination based on sexual orientation and gender identity in the workplace. He has also spoken out against same-sex marriage, believes businesses should have the legal right to deny services to LGBTQ people based on religious objection, and thinks taxpayer-funded adoption agencies should be allowed to discriminate against same-sex couples."
Queerty added that the site respects Johnson's work with the Blade. "We respect Johnson and his reporting. He does good work and has had to overcome some real obstacles to get where he is today," which includes being part of the White House press corps.
Johnson was not happy with Queerty's reporting and shared the article on Twitter along with the caption: "There's something homophobic about this post in a gay publication. Isn't it part of the gay experience to pine after men who will never return those feelings, even ones who would vote against your rights?"
Queerty then followed up, calling out Johnson for not understanding why readers were angry at him. "It's hard to tell whether Johnson is being serious or if this is his attempt at a joke," wrote Queerty's Graham Gremore on April 28.
But not everyone was offended by Johnson's comments.
Kevin Naff, editor at the Blade, thought the whole issue had been blown out of proportion. "The tweet was a casual observation and intended as a moment of levity," Naff told Press Pass Q via email.  "Unfortunately, many didn't see it that way and an attempt at humor fell flat."
TOP STORY
Volume 23
Issue 2