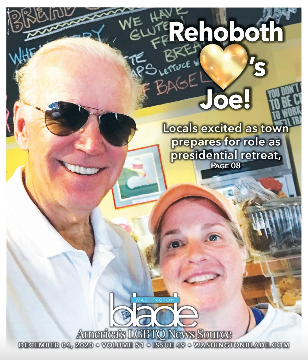 Rehoboth Beach "excited" to be part of Biden's Delaware
by Fred Kuhr
While much of the LGBTQ community breathed a sigh of relief once now-President Joe Biden was declared the winner of the most recent election, it's not often that an entire LGBTQ resort town gets excited about a presidential election.
But Delaware's Rehoboth Beach — and the town's community media — are very excited.
The Washington Blade, which covers nearby Delaware, declared "Rehoboth (hearts) Joe!" on its December 4, 2020, cover, a month after the election. The subhead read, "Locals excited as town prepares for role as presidential retreat."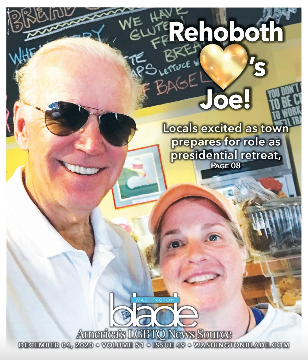 The cover photo showed Biden, who represented Delaware in the U.S. Senate for decades, with Lori Klein, owner of Lori's Café in Rehoboth Beach. The story also featured a photo of Biden with Joe Mack, owner of Double Dippers ice cream shop in Rehoboth.
According to the Blade's reporting, the Bidens bought a house just outside Rehoboth city limits three years ago that "is expected to serve as the presidential retreat for the next four years."
While many former presidents have famously had "presidential retreats" — think George H.W. Bush's Kennebunk, Maine, or Barack Obama's Martha's Vineyard, Mass. — none has been a popular LGBTQ travel destinations.
How well does Rehoboth know Biden? Mack tells the Blade, "He loves chocolate ice cream and a waffle cone. That's his go-to."
Lori's Café is located next door to CAMP Rehoboth, the local LGBTQ community center. The center publishes Letters From CAMP Rehoboth, the local LGBTQ publication.
Letters From CAMP Rehoboth has published a number of pieces praising local boy Biden and his relationship with the LGBTQ community.
Even before the election, on November 13, 2020, columnist David Garrett wrote, "Thank heavens Joe Biden will be our new president. … We will discover that Joe, with Kamala at his side, is up to the challenge. … He will lead this nation, resolutely, for its diversity, for its unity, for its vision, and its call to all citizens to build a better country. Let's go, Joe!"
Fellow columnist Wesley Combs, who is a CAMP Rehoboth board member, praised Biden in a February 19, 2021, piece for his pro-equality executive orders.
CAMP Rehoboth also endorsed Biden's choice of Dr. Rachel Levine to be assistant secretary of health. Levine, who would become the country's first transgender official confirmed by the U.S. Senate, most recently served as secretary of health in nearby Pennsylvania.
IN THE NEWS
Volume 22
Issue 12