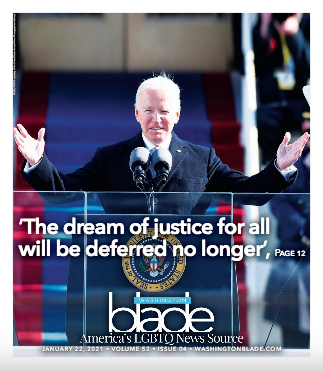 Biden provides plenty of news in first month in power
by Joe Siegel
The transition to the Biden/Harris Administration has resulted in a flood of policy reversals — and a tidal wave of coverage for the LGBTQ beat.
For LGBTQ media, the challenge has been to provide coverage for all of President Biden's executive orders and appointments, including Pete Buttigieg's recent confirmation as the Secretary of the Department of Transportation.
"There has been an avalanche of LGBTQ-related news coming out of the new administration, from ending the trans military ban to an order enforcing the [U.S. Supreme Court's] Bostock ruling," said Kevin Naff, editor of the Washington Blade. "Our White House reporter, Chris Johnson, this week questioned both White House Press Secretary Jen Psaki and National Security Adviser Jake Sullivan about the Equality Act and the Biden Administration's commitment to LGBTQ rights overseas."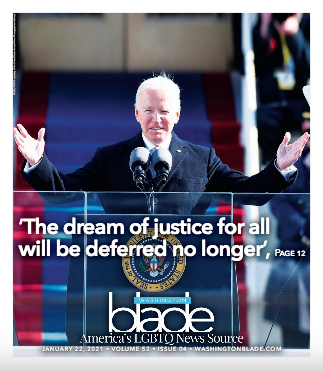 Johnson wrote a February 12 story with the headline "White House vague on whether Biden will confront Putin over anti-LGBTQ abuses." In it, he wrote, "White House Press Secretary Jen Psaki was vague Friday on whether President Biden — after an initial call with Vladimir Putin on election interference, hacking into the U.S. government and possible bounties on U.S. troops — would similarly confront him on anti-LGBTQ human rights abuses in Russia."
Psaki made the comments in response to a question from the Blade in the aftermath of a report that Russia arrested and detained two men perceived as gay and forcibly returned them to Chechnya, where they face persecution.
Another story, also written by Johnson, referred to cases of anti-LGBTQ discrimination in housing: "The Biden Administration is set to declare it will take up and adjudicate cases of housing discrimination against LGBTQ people to comply with orders against anti-LGBTQ discrimination from the U.S. Supreme Court and President Biden."
That is in reference to the Department of Housing and Urban Development announcing it will accept and investigate complaints under the Fair Housing Act in cases of housing discrimination based on sexual orientation or gender identity.
Despite all the good news on the LGBTQ front, Washington is still dealing with the aftermath of the January 6 riot at the U.S. Capitol.
"The atmosphere remains tense, especially during this week's impeachment trial," Naff said. "The Capitol remains behind fencing. But our staff is safe and hasn't felt threatened since January 6. We take precautions and our reporters are properly credentialed so we feel safe covering Congress and the White House."
IN THE NEWS
Volume 22
Issue 11