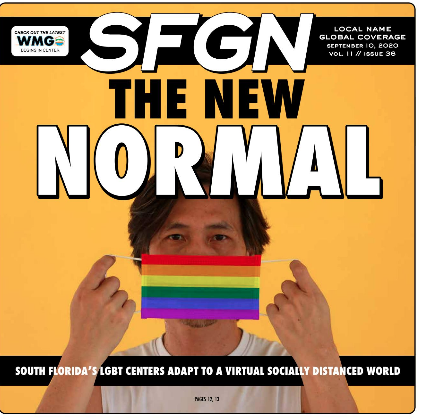 Publications adapt as markets hit by second wave
by Joe Siegel
The novel coronavirus pandemic has wreaked havoc on the economy, shuttering businesses and forcing the cancellation of concerts, festivals, parades, parties and sporting events. As well, LGBTQ publications have been severely impacted, resulting in a sizeable drop in advertising revenue, with not much rebound predicted until 2021.
"We expect COVID-19 to continue to impact our publication through the end of the year," said Jason Parsley, associate publisher of South Florida Gay News in Wilton Manors. "We had to postpone our yearly publication in June until January, which severely impacted us. Meanwhile our September magazine is usually our annual arts and entertainment preview, but that theme had to be scrapped. It's also our most successful issue of our magazine each year."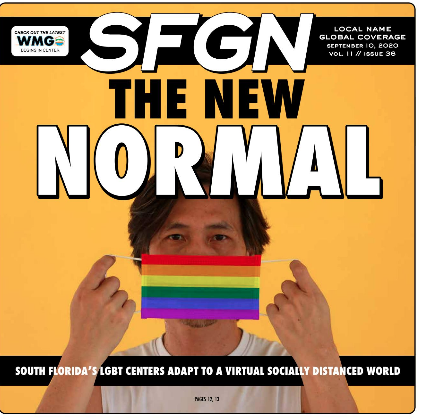 Washington Blade editor Kevin Naff said his newspaper has been impacted much like other small business. "Some advertising categories, like real estate and health care, remain strong, while others, like arts and entertainment, have suffered during COVID. We are holding our own in D.C. and L.A. [with sister publication the Los Angeles Blade] and fighting on."
"It's still quite a local challenge," added Troy Masters, editor of the Los Angeles Blade. "We have had multiple crises — fires, heatwave, resulting smog — and all have compounded the business situation for all small businesses. West Hollywood has lost dozens of small businesses, five bars and several restaurants. People are trying to adjust. We have managed to have a good run, despite it. But no one in California expects to be out of the woods for years and everyone expects to transform during a certainly bumpy period ahead."
At San Francisco's Bay Area Reporter (BAR), advertising income has yet to improve since March, said publisher Michael Yamashita. "But we are able to take it month by month while working on new projects and revenue streams. Most businesses are still shuttered or partially operating, if they have not closed for good. Entertainment venues are still closed. The beginning of limited indoor dining and personal services won't have an immediate effect on advertising returning. Long term, it all depends on the infection rates remaining low."
BAR also launched a membership program to raise money from readers. Yamashita said that many of those who contributed to a crowdfunding campaign wanted to continue giving. "We've listened to [reader] feedback and we've invested in building a membership program that is becoming standard for many news publishers," Yamashita said.
In Rhode Island, Options Magazine announced that it received at $5,000 matching donation and has launched a fundraising drive to meet the match.
"Options aimed to print every two months, but the pandemic has drastically reduced our ability to raise funds through advertising," said editor in chief Jan Stevens. "Support from the community is our only path forward at this time."
Sadly, Chicago's Windy City Times made the difficult decision to end its print edition. The venerable newspaper posted the announcement on Facebook: "On the newspaper's 35th anniversary and its induction into Chicago's LGBT Hall of Fame, Chicago's only LGBTQ newspaper is moving to a digital-only format. The site offers tens of thousands of archived articles and photos and serves an average of 125,000 unique monthly visitors, plus nearly 40,000 followers on social media."
According to co-founder Tracy Baim, "COVID-19 was the final nail in the print coffin after 35 years in print. All of the staff are being impacted, some laid off fully, some furloughed, as we retool and figure out our next steps. [But] we do not plan to come back in print on any regular basis."
Times are also tough for Boston Spirit Magazine. "We did not publish our May/June issue," said publisher David Zimmerman. "The decision was made that, since most of our advertisers were closed at that time, that it did not make sense to publish the issue. It would have added an additional financial burden to our advertisers, and chances were good that the issue would have lost money. We came back with our July/August issue and it did well, and September/October was a very strong issue."
Many of Boston Spirit's advertisers are budgeting for 2021 but "they are working off of revenue numbers from 2020, which are all down," Zimmerman added. "That will be the true test, who comes back for 2021."
QLife Magazine, based in the tourist mecca of Las Vegas, has also been facing challenges.
"Our particular market is very unique," explained co-publisher Russ White. "QLife serves not only our local Vegas community, but also our tourism community. Our distribution footprint spans most of the Southwest from Southern California to Phoenix, what we refer to in Vegas as 'the drive-time markets.' While we're currently printing just for Vegas, as things open up we will be able to adapt our publication and provide geo-targeted print advertising."
White noted, "COVID is still impacting us and will continue to do so for many quarters, but we've adapted our business models, innovated in a few areas, and most importantly lowered our operating costs so that when advertisers are ready to come back, our financial picture improves faster with greater margins, and with greater value to our advertisers and our readers."
TOP STORY
Volume 22
Issue 7