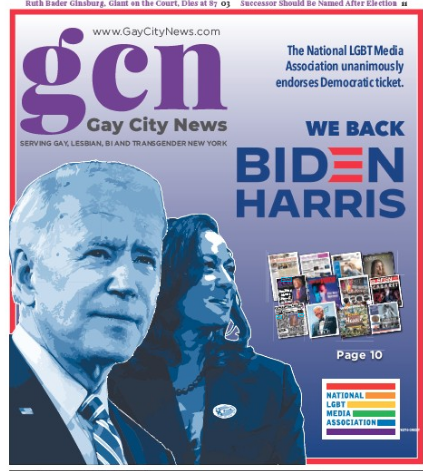 Newspapers jointly back Biden/Harris ticket
by Fred Kuhr
For the first time in its history, the organization representing 12 legacy LGBTQ newspapers has issued a joint political endorsement — Joe Biden for president and Kamala Harris for vice president.
The endorsement made by members of the National LGBT Media Association was written by Paul Schindler, editor in chief of New York City-based Gay City News.
"In an historic move, the 12 newspapers of the National LGBT Media Association (NGMA), which represents the nation's oldest and most established LGBTQ publications with a combined circulation of more than one million readers, are issuing this joint endorsement of the Joe Biden/Kamala Harris," wrote Schindler.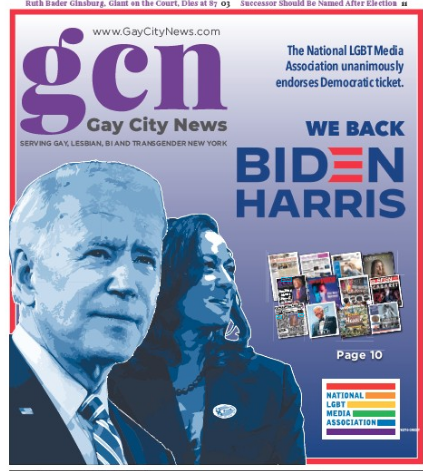 The endorsement goes into detail about how the Trump/Pence Administration used LGBTQ Americans as a "punching bag."
"Trump's administration fought tooth and nail to prevent the pivotal advance we won at the Supreme Court in June — the recognition that we enjoy employment nondiscrimination protections thanks to the 1964 Civil Rights Act," wrote Schindler. "Still, Trump and his see-no-evil GOP Senate allies refuse to move the Equality Act, which would extend those nondiscrimination protections across the board in areas like housing and public accommodations. For them, the nation's most embattled minority are bigots who want to enshrine their right to discriminate under the cloak of 'religious liberty.' As in every other aspect of this endorsement, Joe Biden and Kamala Harris offer a stark and redemptive alternative."
The endorsement acknowledges that some in the Democratic Party see Biden as too moderate and want to move the party to the left.
"But here's the thing," the endorsement notes. "With four more years of Trump, there is no real consequential venue for having those debates. Trump and his enablers are draining the oxygen out of our democracy. Debating between left and center in the House of Representatives is no substitute for regaining the White House and the Senate. Only then can we have our debates, lick our wounds, and set a course for a better tomorrow."
Members of the NGMA include Bay Area Reporter (San Francisco), Bay Windows (Boston), Between The Lines (Detroit), Dallas Voice, Gay City News, Georgia Voice (Atlanta), Philadelphia Gay News, Los Angeles Blade, South Florida Gay News (Wilton Manors), Washington Blade, Watermark (Orlando) and Windy City Times (Chicago).
IN THE NEWS
Volume 22
Issue 7