Connecticut finds its Voice with new publication
by Joe Siegel
Connecticut Voice has been serving the Constitution State's LGBTQ community for over a year and is thriving despite the coronavirus pandemic.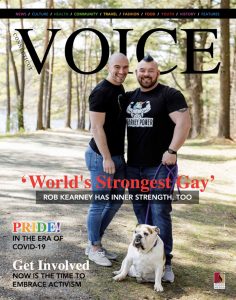 "We have covered a full variety of topics from Health and Wellness, challenges of LGTBQ youth, the homelessness crisis, milestones in transitioning, history, dating, trends, religious and spiritual leaders devoted to openness and inclusion, families, political candidates in our state and so many more," said Jim Tully, who is both owner and publisher. "We have fantastic articles on arts, food, interesting op-eds, celebrity and the importance pets play in all our lives. These just touch part of what we have done and what we will do in the future."
Tully launched the publication late in 2018. The first edition was published in March 2019.
"I have a fantastic and diversified board of advisors and after only two or three suggestions for a name, Connecticut Voice was offered and it was a no-brainer," Tully said. "It has such a specific and general meaning all at the same time. And it is Connecticut's voice."
"I strongly believe that the little things matter," Tully continued, "simple things like fact checking, proofing, layout specifics that many publications have cut to save money. Connecticut Voice writes everything you see in the magazine. Quality breeds quality. Our readers and advertising partners recognize our attention to detail."
Readers have responded favorably.
"We have received great feedback with phrases like, "It's about time," for Connecticut to have its own LGBTQ publication," Tully said. "Many of our readers tell us that they have every issue of Connecticut Voice on the coffee table. What an incredible compliment! We are also open to all ideas and always respond. We do not pretend to have all the answers. But my editors and writers know one rule — everything starts with the story."
Tully notes the pandemic "has affected our timetables somewhat and certainly accessibility for some story subjects. But we can still utilize the technology at hand like Zoom or other methods for our stories although we strongly prefer in-person."
Tully is proud of the publication's multi-platform approach with its dedication to new content weekly on their social platforms as well as the television show Connecticut Voice Out Loud that now airs on WTNH in New Haven.
IN THE NEWS
Volume 22
Issue 6