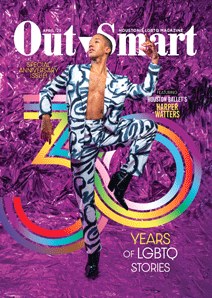 Houston's OutSmart celebrates 30 years with a twist
by Fred Kuhr
Most publications, in order to celebrate their milestone anniversaries, look back from the very start — volume 1, number 1. But since OutSmart, based in Houston, Tex., already did that when it celebrated its 25th anniversary five years ago, editors and writers there are doing things a little differently this time.
With so much that has happened in the intervening years, most notably the COVID-19 pandemic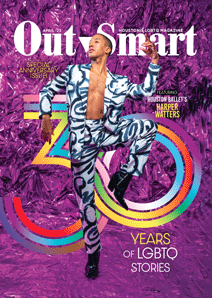 and the end of the Trump presidency, OutSmart's memory lane is examining all that has changed for Houston's LGBTQ community since then.
"Since the first print issue of OutSmart magazine hit the stands in 1994, much has changed for Houston's LGBTQ community. With this issue, we celebrate being 30, flirty, and thriving as we look back at everything that's happened since our 25th birthday," wrote publisher and editor in chief Greg Jeu in OutSmart's April 2023 issue.
"In this issue, [reporter] Zach McKenzie looks back at our past five years of reporting — from Pride Houston's 40th anniversary in June 2017 to mourning the death of trans activist and journalist Monica Roberts," Jeu added. "… We are grateful that OutSmart's family of readers, advertisers, and contributors continues to support our efforts in bringing you these stories."
The special issue also features interviews with four local personalities who have appeared on previous OutSmart covers, including anniversary issue cover personality Harper Watters, the Houston Ballet's first soloist.
"The first print issue of OutSmart magazine landed on newsstands 30 years ago, in an era much different than the times we live in today," wrote McKenzie in the introduction to his retrospective. "When Houston's premier LGBTQ magazine began reporting on local news, it was still illegal for non-heterosexual couples to marry, RuPaul was gearing up to release his debut studio album, … and President Bill Clinton would soon sign into law the infamous 'Don't Ask, Don't Tell' military policy. … Different times, indeed."
In the five years since OutSmart's 25th anniversary issue hit the newsstands, "Our community has experienced immense changes, survived historic events, and faced new hurdles in the ongoing fight for equality," continued McKenzie. "We've endured a pandemic together, which on top of the obvious health crisis made safe spaces for queer people less accessible for a long period of time. Drag queens became the newest target of the conservative right wing, while Donald Trump and his Supreme Court appointees waged war on women's rights. Republican politicians nationwide set their sights on dismantling the rights of LGBTQ teachers, artists, parents, and more. On the home front, our city endured Hurricane Harvey and the deadly winter freeze of 2021."
Over the past five years, OutSmart has worked tirelessly to highlight the positive aspects of our community, noted McKenzie. "We published our first cover featuring a nonbinary model, celebrated the rise of drag kings in Houston, highlighted the local queer members of Black Lives Matter: Houston, and so much more. We've been on the front lines of reporting on HIV health care, entertainment, politics, emerging artists, star athletes, and other community heroes who strengthen the fabric of our community."
OutSmart goes on to highlight almost 20 of its most notable covers and issues from the past five years, showcasing such stories as "Pride Houston names its first Black male grand marshal and four trans women of color as honorary grand marshals" in June 2019, "Local LGBTQ heroes respond to COVID" in April and May 2020, and "LGBTQ leaders of the local Black Lives Matter group speak out following George Floyd's murder" in July 2020.
"As we look back on the last 30 years and recognize how far we've come — and how far we still have to go — the OutSmart staff is honored to continue sharing these stories that all too often go unheard," wrote McKenzie.
IN THE NEWS
Volume 25
Issue 2