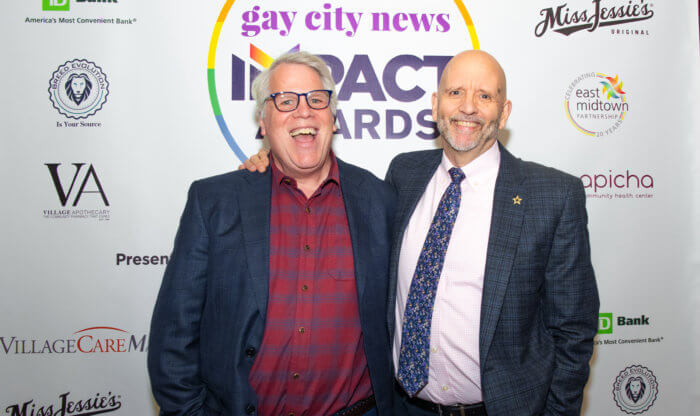 NY's Gay City News hosts in-person Impact Awards, a first since 2019
by Fred Kuhr
After a couple of years of virtual and hybrid events, New York City-based Gay City News (GCN) hosted its first fully in-person Impact Awards event since 2019 on November 9 in Queens.
Among award recipients was GCN founding editor Paul Schindler, who was honored with the Lifetime Achievement Award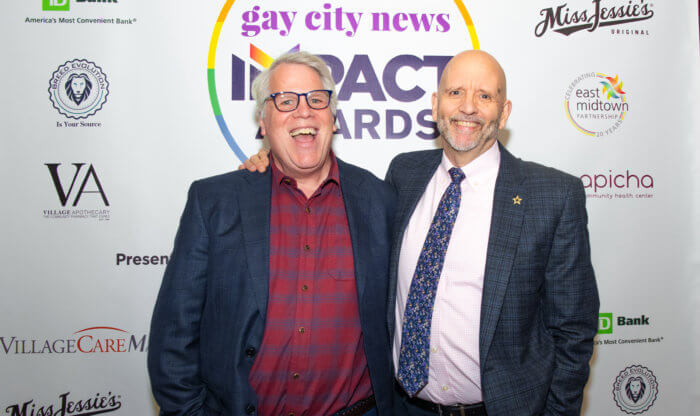 Schindler retired as editor-in-chief of GCN at the end of 2020. As GCN reported, "He made it a point in his acceptance speech to express dismay over the homophobia and transphobia that has surged across the country in recent years. Between the legislative attacks on trans youth and the rhetoric branding gay people as 'groomers,' he said such language is reminiscent of Anita Bryant's homophobic 'Save the Children' campaign."
"Forty-six years have passed, and once again, we're hearing the same poisonous rhetoric," Schindler told the in-person crowd. "I was in high school when the Supreme Court ruled on Roe v. Wade and I was in grade school when the Voting Rights Act was passed."
Schindler also congratulated the other award recipients. "I want to acknowledge and praise my fellow honorees who have contributed so much to our community and who have so much to say and to teach all of us," he said, according to GCN.
Other speakers included Charles Hughes and Richard Solomon, who received the TD Bank Outstanding Entrepreneur Award and were recognized for their work as co-founders of the spirits brand Lambda Vodka and the nightlife venues Lambda Lounge and Club Lambda.
"Hughes and Solomon are known for establishing LGBTQ spaces catering to queer people of color, bringing much-needed diversity to the nightlife space in New York City," stated GCN's reporting. "The couple delivered an emotional speech about the tough but rewarding work they endure in navigating the business side of their work."
Another speaker was Teen Advocate Award winner Desmond Napoles, who is an LGBTQ advocate, gender-fluid model, published author, and founder of online communities for LGBTQ and gender-variant youth.
In highlighting the honorees, GCN events director Amanda Tarley praised their determination and success. "Tonight is a celebration of individuals who make a difference and leave people better than they found them," Tarley told GCN.
The ceremony, its seventh annual, was held at Russo's on the Bay in Queens and was sponsored by VillageCareMAX.
IN THE NEWS
Volume 24
Issue 8