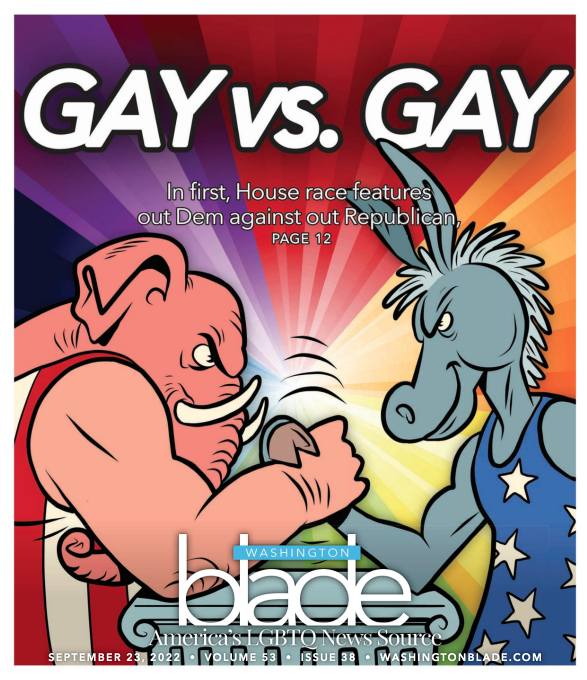 Media covers LGBTQ wins and losses
by Joe Siegel
While all media were focused on whether or not there would be a red wave, LGBTQ outlets were also looking at our own community's candidates to see how they would do during what was viewed as one of the most important elections in U.S. history.
While the red wave turned out to be more of a red ripple, as the Blade put it, LGBTQ candidates won many victories on election night, creating their own pink wave.
Reliably blue Vermont and Massachusetts delivered the first LGBTQ victories of the night. The Washington Blade's Christopher Kane reported, "Becca Balint and Maura Healey were among the first candidates whose races were called, both becoming the first women and the first LGBTQ people elected to, respectively, represent Vermont in Congress and serve as governor of Massachusetts."
The LGBTQ Victory Fund, which supports pro-choice LGBTQ candidates, toasted the candidates' success "shattering lavender and glass ceilings."
San Francisco's Bay Area Reporter also reported on Healey's victory: "Healey's win in Massachusetts made her the first woman to win election as governor in that state and the first lesbian to win election as governor anywhere in the nation. … Healey, who helped lead the legal battle for marriage equality and championed many challenges against Trump Administration policies as state attorney general, triumphed over a Trump-backed Republican. That candidate, Jeff Diehl, had former President Donald Trump's endorsement but not that of the state's popular incumbent governor, Republican Charlie Baker."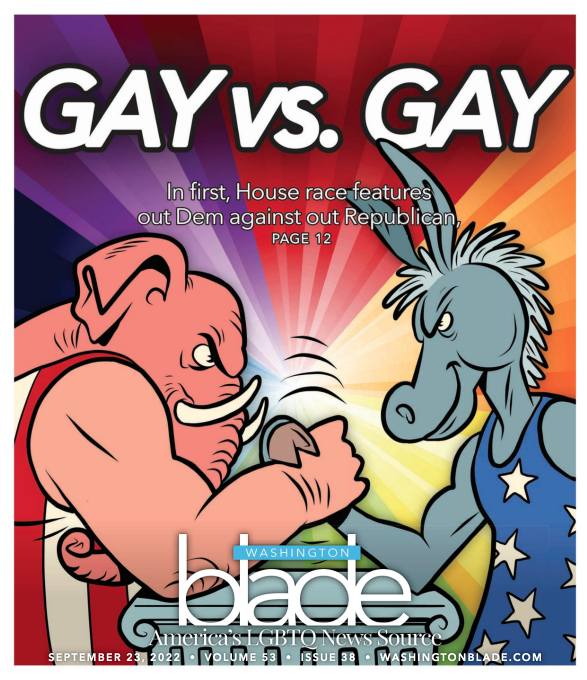 In New York's so-called "gay vs. gay" race, Republican George Santos won against Democrat Robert Zimmerman in a district based on Long Island. The race made headlines across the country because it was the first time that an openly gay Democrat and an openly gay Republican faced off in a general election for Congress.
In Florida, where anti-gay Republican Gov, Ron DeSantis won re-election against Democratic opponent Charlie Crist, many LGBTQ candidates were defeated.
The South Florida Gay News ran a story headlined: "Red Wave Wipes Out Florida's LGBT Candidates."
"Representative Michele Rayner was the sole survivor, winning the race for House seat 62 to return for her second term in Tallahassee," reporter John McDonald wrote. "In a district that spans Pinellas and Hillsborough counties, Rayner, a Democrat, received 32,866 votes to defeat Republican Jeremy Brown, who finished with 14,649 votes."
"Others weren't so fortunate. The shocker came in House District 37, where three-term Rep. Carlos Guillermo Smith was ousted by Republican Susan Plasencia. In unofficial totals, Plasencia got 27,696 votes to Smith's 25,617 in a district that covers parts of Seminole and Orange counties."
"Lesbians Janelle Perez and Eunic Ortiz were defeated in their [state] Senate campaigns. Alexis Maria Calatayud took the Miami-Dade District 38 seat, receiving 93,726 votes (54%) to Perez's 78,595 votes (46%). In Pinellas County's District 18, Republican Nick DiCeglie got 128,927 votes (57%) to 97,703 (43%) for Ortiz."
"Elsewhere, gay candidates Adam Gentle and Gabriel Gonzalez could not duplicate their primary victories. Gentle fell to incumbent Rep. Jim Mooney in House District 120 (61% to 39%), which covers the Florida Keys, while Gonzalez lost to Juan Carlos Porras (64% to 36%) in western Miami-Dade's House District 119."
The LGBTQ Victory Fund released its 2022 Out on the Trail report Oct. 26 revealing that, for the first time in history, LGBTQ candidates were running in all 50 states and the District of Columbia.
News Is Out, a collaborative of seven legacy LGBTQ media publications, profiled LGBTQ candidates running this year for local and state offices.
One of those candidates, Mike Simmons, won re-election to the Illinois State Senate's 7th District. "Simmons is the first openly gay member of the Illinois Senate and the third openly gay, Black state senator in the country," according to Windy City Times, based in Chicago.
According to the LGBTQ Victory Fund, Simmons had been a vocal advocate for police accountability, vaccine equity and mental-health parity, and he has fought to protect critical reproductive rights. One of his proudest moments was when he voted for the Illinois Way Forward Act, which prohibits local law enforcement from collaborating with U.S. Immigration and Customs Enforcement (ICE), enacting some of the strongest protections for immigrants in the country."
SIDEBAR
Volume 24
Issue 8