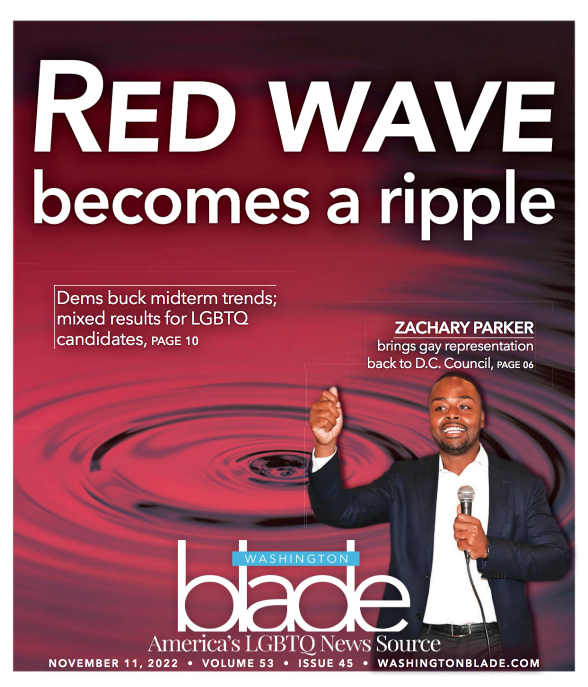 Coverage highlights how "red wave became a ripple"
by Joe Siegel
With control of the United States Senate and House of Representatives on the line in the November 8 election, several highly competitive races drew widespread coverage in LGBTQ media.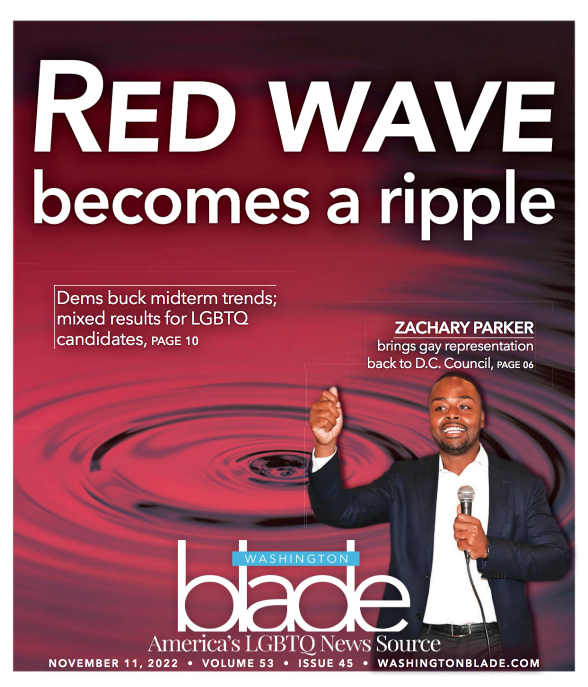 But with results slowly rolling in, two days after the Election Day, the banner headline on the front page of the Washington Blade was, "Red Wave become a ripple." The front page also declared, "Dems buck midterm trends."
In the swing state of Pennsylvania, for example, Democratic Lt. Gov. John Fetterman defeated Republican — and popular television personality — Dr. Mehmet Oz. The state's governor's race featured ultra-conservative Republican Doug Mastriano running against Democrat Josh Shapiro, who won handily.
"Philadelphia Gay News has been covering the governor's race and U.S. Senate race extensively, and LGBTQ rights is mentioned in every article we do," said Jason Villemez, PGN's managing editor.
"We recognize the importance of Pennsylvania on both the local and national level, so we've aimed to have continual and comprehensive coverage," Villemez noted. "The LGBTQ community has also played a big role in both campaigns. One of the anti-Mastriano ads on TV even brought up the fact that his stance on marriage equality could have economic ramifications for the state. Both Shapiro and Fetterman have been good at responding to our requests for comment. Oz and Mastriano, perhaps unsurprisingly, have not responded to our requests for comment."
In Georgia, Democratic U.S. Senator Raphael Warnock faced opponent Republican Herschel Walker, a former pro football player. That contest is headed to a December runoff due to neither candidate garnering at least 50 percent of the vote (which is the rule in that state).
"We at Georgia Voice understand the importance of the midterm elections on LGBTQ Georgians, and we covered both the Senate and gubernatorial races in one of our recent issues," said editor Katie Burkholder. "We highlighted the lack of LGBTQ topics during the Warnock/Walker debate, as well as an op-ed from an HIV activist supporting Warnock; we published an LGBTQ-friendly voter guide covering all elections; and highlighted the impact of the election on reproductive rights in Georgia."
Perhaps unsurprisingly, the Washington Blade, which is based in the nation's capital, took a more national approach to its coverage.
"We're covering the midterms from multiple angles — local races for D.C. mayor and council, where we will likely get our first out gay council member since 2015, and Maryland governor where a strong LGBTQ ally is running against a Trump-endorsed MAGA lunatic — as well as national races that will decide control of the Senate," said Washington Blade editor Kevin Naff just before Election Day. "We have featured some LGBTQ candidates, including a Black lesbian running for Congress and a New York race where a gay Democrat is running against a gay Republican, which is a first."
In the D.C. Council race Naff mentioned, Zachary Parker won his seat, "bringing back gay representation to D.C. Council," as the Blade put it on its front page along with a photo of Parker.
The Blade ran a November 6 story about a Kaiser Family Foundation survey reporting on how Black voters feel about LGBTQ issues.
"A large majority (78 percent) of Black voters support Congress updating the Civil Rights Act to include protections against discrimination based on sexual orientation and gender identity, including large majorities across age groups, and 93 percent of Black voters who identify as LGBTQ," wrote Brody Levesque, an editor at the Los Angeles Blade. "Same-sex marriage also garners solid support among Black voters, with more than two in three (68 percent) saying they support Congress passing a law to protect same-sex marriage (including 44 percent who say they strongly support this measure.) About nine in 10 (93 percent) Black voters who identify as LGBTQ support protecting same sex marriage."
The Blade also reported on a record number of trans and non-binary candidates on the ballot this year.
"Leigh Finke is among this historic group and if elected, she will become Minnesota's first out trans person in the state legislature," reporter Parker Purifoy wrote. "She is running to represent District 66A in Minnesota, which encompasses part of Minneapolis. Finke is a journalist, and filmmaker who focuses largely on civil rights and LGBTQ issues." Finke trounced her Republican opponent with 81 percent of the vote.
South Florida Gay News, based in Wilton Manors, Fla., featured a rundown of LGBTQ races around the country. "Three governor races: One of the more likely highlights of the evening will be the election, for the first time in U.S. history, of an openly lesbian candidate as governor of any state."
Jared Polis became the first gay man to be elected governor when he was first elected to that office in Colorado in 2018. He won re-election handily this year with 57.6 percent of the vote. Maura Healey of Massachusetts and Tina Kotek of Oregon both won their respective races, becoming the first out lesbian governors in history.
TOP STORY
Volume 24
Issue 8