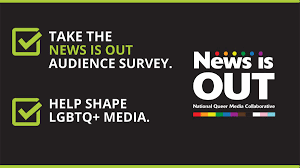 Queer Media Collaborative conducts reader survey
by Joe Siegel
News Is Out: The Queer Media Collaborative (QMC), launched in 2021, is conducting a survey of readers in an effort to improve news content.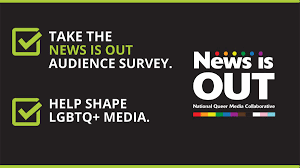 The collaborative, sponsored by the Local Media Foundation (LMF), includes the Bay Area Reporter, Dallas Voice, Q Voice News, Tagg Magazine, Washington Blade, and Windy City Times. Funding for the endeavor is being provided from the Google News Initiative Innovation Challenge.
"Google had wanted this round of innovation projects to focus on audience listening," said Penny Riordan, director of business strategy and partnerships for LMF. "We know that engaging with our readers more and asking them questions has become such a huge growth theory in the industry."
Before joining LMF, Riordan worked for six years at Gannett and GateHouse. She helped run GateHouse's digital strategy and led monthly calls on best practices with digital editors across the country. Riordan also led product initiatives on analytics, audience engagement, comments, and social media platforms.
"It's important to us from the get-go that we are polling readers all over the country about what they want to read," said Dana Piccoli, project manager for News Is Out. "The essential pieces that they maybe are not feeling that they don't get or they want to see more of so [this survey] is really going to help us inform our coverage."
Piccoli is a writer and entertainment critic who has written for sites including NBC News, The Mary Sue, Decider, and Curve. She's also the former managing editor of the Bella Media Channel, a division of Bella Books Publishing that focuses on queer entertainment and pop culture. She is also the founder and editor in chief of Queer Media Matters.
The survey was being conducted until the middle of March.
"We actually haven't analyzed the results yet," Riordan noted. "We did ask [readers] how you see yourself represented in national media, what areas do you feel are under-covered in your communities, what's information that you want but can't get? So we'll have some interesting insights on that."
Piccoli also said focus groups are being conducted based the information gathered.
"We're so pleased with how many people so far have been interested in doing that with us," Piccoli said.
"The surveys and the focus groups are meant to give unique and fresh insights to the publishers about what matters to their audiences," Riordan explained. "We hope to grow a national brand that is covering the queer community and we hope it spreads issues and recovers issues that are important, that are being underreported, and we also hope that it elevates the work of these local publishers."
Riordan said the outlets participating in the collaborative may soon be sharing content with each other.
"We're really hoping to make these local pieces part of the national conversation," Piccoli added. "We know that queer media can be a challenging place. We have a certain audience, a limited audience. We want to be able to give people a place where they can come and know they are getting the best journalism, the best conversations, and the best content."
IN THE NEWS
Volume 23
Issue 12