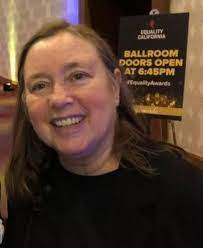 LA Blade's Karen Ocamb named Journalist of the Year
by Fred Kuhr
Karen Ocamb, the former editor of the Los Angeles Blade, has been named Journalist of the Year for 2020 at the 63rd annual Los Angeles Press Club's Southern California Journalism Awards gala, which was held last month.
She was the only nominee from an LGBTQ publication, beating out nominees from L.A. Weekly and the Long Beach Press-Telegram. In fact, according to the L.A. Press Club, this is the first time its Journalist of the Year Award has gone to an LGBTQ media outlet or editor.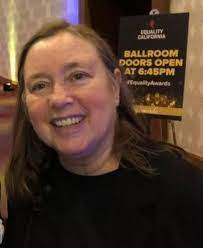 "Karen Ocamb's passionate reporting of the struggles of the LGBTQ community and journalists covering LGBTQ issues during the pandemic earns her a Print Journalist of Year award," noted the press club's judges. (Ocamb won for publications under 50,000 circulation. The over 50,0000 circulation award went to Benjamin Oreskes of the Los Angeles Times.)
Ocamb was also a runner-up in two other categories, placing second in the categories of Pandemic Reporting Digital (Online), for her Los Angeles Blade piece, "Seeking Truth in the War on the Coronavirus," and Commentary: on political, social, cultural, investigative, judicial, economic or other serious subjects, for her piece entitled, "Strong at the Broken Places: Essay on the plague for World AIDS Day."
Troy Masters, publisher and founder of the Los Angeles Blade, said of Ocamb's award, "There is truly no one I have worked with over the past 35 years in LGBT journalism who has a greater integrity or devotion to the community than Karen. Her work always explores the evolution of every subject she covers, giving it rich and lucid context that helps the stories jump off the page. She always knows when more than a 'just the facts' story is needed and she steps it up in a way that bridges generations and ideas. She's the writer and editor I always dreamed of having and I can think of no one more deserving of this honor."
Ocamb now works in media relations for Public Justice, a national nonprofit progressive legal advocacy agency that fights for civil rights, environmental protection and consumer and workers' rights. She was the founding news editor of the Los Angeles Blade when it launched in 2017.
The Los Angeles Press Club was founded in 1913 and honors journalists through its annual National Arts and Entertainment Journalism Awards and SoCal Journalism Awards, as noted in the Blade. The annual gala is held to celebrate the best of Southern California journalism and features and honors journalists working in all media platforms of print, radio, television or digital (online).
IN THE NEWS
Volume 23
Issue 8