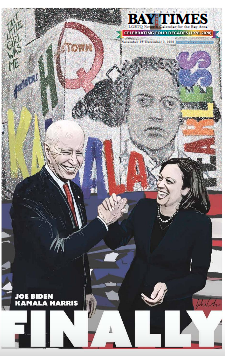 TRANSITIONS AND MILESTONES
(What's happening at your publication? Let us know. Email editor Fred Kuhr at editor@presspassq.com)
BEING SEEN, a podcast focusing on the voices of Black LGBTQ men, launched on October 6, 2020, and consists of 10 35-minute episodes. It is hosted by writer and activist DARNELL MOORE and produced by New York-based creative company HARLEY & CO. and pharmaceutical company ViiV HEALTHCARE.
LENN KELLER, founder of BAY AREA LESBIAN ARCHIVES in Berkeley, Calif., passed away of cancer on December 16, 2020, at her home in Oakland. Keller founded the organization in 2014. She was 70.
NLGJA: THE ASSOCIATION OF LGBTQ JOURNALISTS is accepting nominations for its 2021 EXCELLENCE IN JOURNALISM AWARDS. Work originally broadcast or published in 2020 may be submitted through noon ET on February 11, 2021. For more information, go to https://www.nlgja.org/awards/excellence-in-journalism-awards/
OUT IN JERSEY, based in Trenton, N.J., entered its 26th year of publication with its December 2020 / January 2021 issue.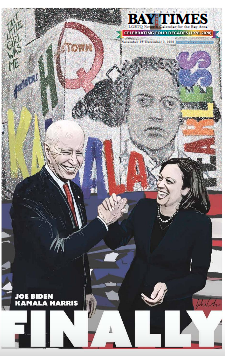 OUTCLIQUE, based in Wilton Manors, Fla., entered its fifth year of publication with its December 2020 issue.
SAN FRANCISCO BAY TIMES commissioned DEBRA WALKER, an artist as well as commissioner of the SAN FRANCISCO ARTS COMMISSION, to create the newspaper's November 29, 2020, cover celebrating JOE BIDEN and KAMALA HARRIS' presidential election victory.
SAVE SF NEWS, a coalition of leading independent news outlets in San Francisco including BAY AREA REPORTER, held an online panel discussion on December 31, 2020, called "Why SF's Independent Press is Essential." BAR's publisher MICHAEL YAMASHITA was one of the panelists.
THE UNLEASHED VOICE MAGAZINE, based in Memphis, Tenn., and targeting the Black LGBTQ community, celebrated its fifth anniversary in its November / December 2020 issue.
TRANSITIONS AND MILESTONES
Volume 22
Issue 10