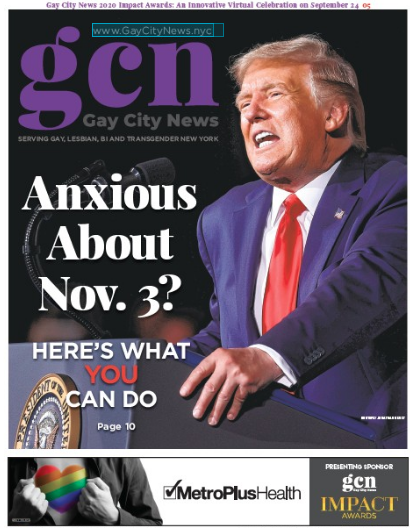 Election coverage ramps up in final stretch
by Joe Siegel
LGBTQ publications have been providing comprehensive coverage of the presidential election, which has been impacted by the ongoing coronavirus pandemic.
San Francisco's Bay Area Reporter (BAR), for one, provided online coverage of both the Democratic and Republican conventions. News Editor Cynthia Laird said each week's issue included an advance piece, including some of the LGBTQ aspects of the events.
For the Democrats, BAR covered every night of the convention and got stories online shortly after the sessions ended.
"Reporter John Ferrannini talked to some delegates and included that in his overall coverage," Laird said. "He also highlighted LGBTQ speakers, such as U.S. Sen. Tammy Baldwin (D-Wisc.) and former presidential candidate Pete Buttigieg."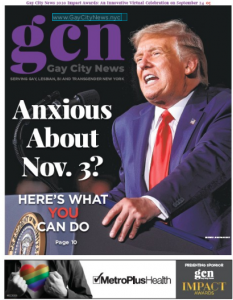 For the GOP confab, however, BAR skipped the first two nights, Laird noted. "Even before the convention started, Richard Grenell," an openly gay former diplomate and Trump cabinet member, "put out a misleading video and I determined it wasn't worth it to have to constantly fact-check the speakers. We did cover Grenell's convention speech that Wednesday, though it was misleading, fact-checked, and he didn't even mention his sexual orientation. Mr. Ferrannini did include his interviews with some gay GOP delegates and Log Cabin officials in that article."
BAR then covered Trump's "misleading" speech and included fact checks, Laird said, noting the newspaper will cover the presidential and vice presidential debates.
"In terms of coverage on Election Night, we will probably post something online and have something in that week's paper, though I doubt we will know results and suspect it will be a drawn out contest," said Laird.
Philadelphia Gay News (PGN) also provided features on the Democratic and Republican conventions.
"For the DNC we focused on the LGBTQ Caucus and the keynote speech as our local state Rep. Malcolm Kenyatta was one of the speakers at both," said Interim Editor Jason Villemez. "We also focused on Tammy Baldwin, Pete Buttigieg, (transgender member of the Virginia House of Delegates) Danica Roem and the two nominees."
For the RNC, PGN focused mostly on President Trump, Vice President Mike Pence, Secretary of State Mike Pompeo — due to his anti-LGBTQ actions at the State Department — and Richard Grenell, Villemez said. "I also wrote editorials on the DNC and the RNC, and (Publisher) Mark (Segal) wrote his Mark My Words columns on the conventions as well."
PGN plans to cover the election as in past years, with a focus on LGBTQ issues and local/regional candidates, as well as features on the presidential candidates and summaries of the debates. Villemez said the newspaper will continue to write about the election in editorials and Mark My Words columns.
"For both the DNC and the RNC, our coverage was limited to end-of-convention wrap-up stories focused on LGBTQ issues and people," said Tammye Nash, managing editor of the Dallas Voice. "We used stories supplied to us by freelancer Lisa Keen. Lisa had ongoing coverage throughout both conventions that were available to us to use. But because of the pandemic we, like many other smaller media outlets, are doing our best to keep up the quality and the quantity of our content, only with fewer and fewer resources. That includes cutting down on the amount of freelance content we can pay for."
For the November 3 general election, the Dallas Voice will be spreading out their coverage by running profiles on Texas LGBTQ candidates weekly leading up to Election Day and will be blogging about candidates and issues.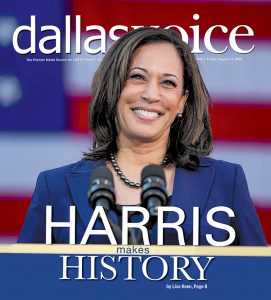 "On Election Day, we will be blogging results as they come in," Nash said. "We have our list of local, state and federal level races that are important/high profile to the LGBTQ community, and we will do our best on Election Day and in the days after to report on those races in as much depth as possible, online and in print."
The Washington Blade covered the LGBTQ highlights from the major speeches, including by Pete Buttigieg. "We also profiled and interviewed Jason Rae, the first openly gay secretary (of the DNC), and Joe Solmonese, who served as CEO of the convention," said Editor Kevin Naff. "We surveyed openly LGBTQ delegates about their hopes for the party, beyond defeating Trump. There were a record 635 out LGBTQ delegates this year. We examined the platform, which was groundbreaking in its inclusion of non-binary people."
For the RNC, the Blade chronicled the party platform, which was unchanged from 2016, then abandoned entirely. "We covered Rick Grenell's speech, contrasting it with the previous two out gay RNC speakers, (former Arizona Congressman) Jim Kolbe and Peter Thiel," the openly gay founder of PayPal.
Naff said in addition to regular news coverage and op-eds, the Blade will be hosting a series of weekly Facebook Live election events in October counting down to the big day.
"Our events group is finally starting to be able to host some in-person events again," Naff added. "We have an upcoming event with U.S. Sen. Chris Coons (D-Del.) addressing a live crowd of LGBTQ voters."
TOP STORY
Volume 22
Issue 6