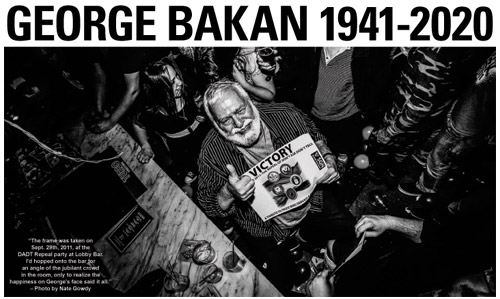 Seattle Gay News pays tribute to longtime leader George Bakan
by Fred Kuhr
George Bakan was the longtime publisher of Seattle Gay News (SGN). But he was also described as an activist, civil rights leader and pioneer, pillar of the community, father, mentor and friend. In fact, he was such a giant in Seattle's LGBTQ community that SGN dedicated two issues to memorializing the man who had led the publication since 1983.
As has been reported, Bakan died at his desk on a Sunday evening — June 7, 2020 — while working on the newspaper. He was 78 year old.
The newspaper's June 12, 2020, issue featured a front-page banner stating "In Memory of George Bakan," with a large photo from 2011 at a local bar as he celebrated the repeal of the military's "Don't Ask, Don't Tell" policy, giving a thumbs-up with a huge grin on his face.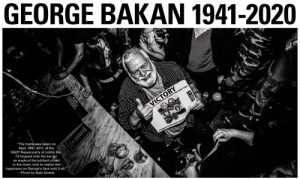 Photographer Nate Gowdy noted, "I'd hopped onto the bar for an angle of the jubilant crowd in the room, only to realize the happiness on George's face said it all."
Also on the front page was a tribute by Sara Toce, publisher of The Seattle Lesbian, another publication in the city. "A pioneer in the LGBTQ+, HIV and AIDS communities, Bakan was beloved by many who were influenced by his natural wit and personality" Toce wrote.
The issue also included tributes from Justin Carder of Capitol Hill Seattle, the Greater Seattle Business Association and the Seattle Collegian.
SGN's June 26 issue, also its Pride issue, ran a front-page banner "Remembering George" along with a photo of a painting of a young Bakan entitled, "Portrait of the Activist as a Young Man," by Virginia Newman. The portrait shows him — Rudolph George Bakan — at age 18 in 1959.
In this issue, more tributes were printed, including one from Gaysha Starr Olympia 29, The Empress of Good Fortune and the First Asian Pacific Islander Empress of Seattle. "George, to all of us in Washington's LGBTQIA community, was our father. Even if you didn't know him, you benefited from his lifelong commitment to activism. Whenever I would introduce him on stage or acknowledge him from the audience, I would credit him as 'The Grandpapa of Capitol Hill' and the crowd would cheer."
The issue is filled with 10 pages of more tributes from friends and colleagues, and many more photos of Bakan. More than a few of the "tributes and eulogies … via Facebook" that were reprinted in the newspaper included the words "Rest In Power."
In the newspaper's July 10 issue, U.S. Rep. Pramila Jayapal, whose district includes Seattle's heavily-LGBTQ Capitol Hill neighborhood, took out a full page ad paying "tribute and reverence" to Bakan.
IN THE NEWS
Volume 22
Issue 5