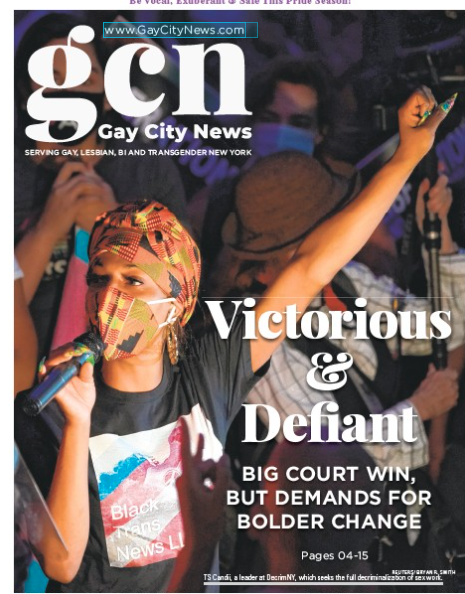 LGBTQ media reports on, and advocates for, Black lives
by Joe Siegel
Pride events were cancelled, downscaled or moved online this year, but many Black Lives Matter protests popped up in their place. And with an understanding of intersectionality, LGBTQ media has been busy covering these events.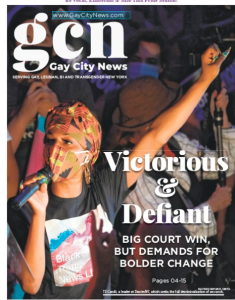 New York's Gay City News (GCN), for one, has been providing extensive reporting on Black Lives Matter and Black Trans Lives Matter protests in the city, with stories about 10 separate events.
On June 28, the paper covered the Reclaim Pride Marches in Support of Black Lives Matter and Against Police Brutality on the day that would normally have the LGBTQ Pride March (the Pride March this year was a virtual event to be aired on the local ABC affiliate). GCN also reported on the Juneteenth Dyke March in Support of Black Lives.
"We have worked hard over the years to report on New York's community with due respect to its amazing racial and ethnic diversity and geographical sprawl," said Paul Schindler, GCN's editor in chief and associate publisher. "Reporting on the community in the Bronx, for example, typically focuses on communities of color."
Schindler noted that "a focus on Black lives and intersectionality is not new, and increasingly, politically active LGBTQ people and elected office holders who are LGBTQ come from communities of color. Bronx Councilmember Ritchie Torres who is the apparent winner of a U.S. House primary; Mondaire Jones, a gay Black man who won a House primary in the city's northern suburbs; Jabari Brisport, a gay Black man who won a Brooklyn State Senate primary; and Brooklyn Councilmember Carlos Menchaca, who has been in office since 2014, are a few examples."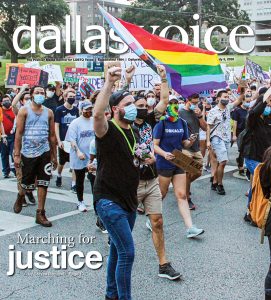 Schindler added, "The Minneapolis police killing of George Floyd and the demonstrations since then have focused particular attention on issues facing communities of color and much of our news coverage over the past three issues has explored that and the many demonstrations that have taken place across New York City"
The Dallas Voice has also had ongoing coverage of the local protests. "We have had at least two covers focused on the Black Lives Matter movement and LGBTQ Pride," said publisher Leo Cusimano. "And Dallas Voice as a company has signed onto letters in support of Black Lives Matter and calling for racism to be addressed in a substantial way. While I don't think our approach to intersectionality and issues of racial equality and justice has changed — our stance on these things remains the same — we have in the last month highlighted the importance of these issues more starkly."
Meanwhile, San Francisco's Bay Area Reporter has been covering the resurgence of Black Lives Matter via several recent protests.
"I have been publishing op-eds by Black writers and writers of color — including a Pride essay this week — and we have editorialized on racism and the police, in one case specifically urging the San Francisco Police Department to move quickly to change its outdated dress codes after a non-binary officer was sent home for wearing earrings after kneeling in support of Black Lives Matter in front of a police station where marchers had gathered," said BAR news editor Cynthia Laird.
"I would say that our news staff is more attuned to racial issues as they relate to the queer community, and that we're working on covering those consistently," Laird added. "For example, while San Francisco's official Trans March is virtual this year, … Black trans people and others held a march in the Tenderloin — home of the city's Transgender Cultural District — and we did pre- and post-coverage."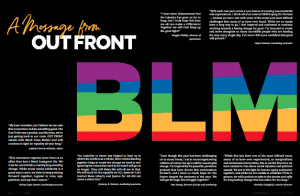 In Denver, Out Front Magazine published a two-page spread in its June 17 Pride issue devoted to staff members standing in solidarity with the Black Lives Matter movement, alongside a rainbow BLM logo.
"My hearth is broken, but I believe we can take this momentum and do something good," wrote editor Addison Herron-Wheeler. "The first Pride was a protest, and this year, we're just getting back to our roots. Out Front stands with Black Lives Matter and will continue to fight for equality all year long."
The Washington Blade has published numerous columns and stories, including one on June 30 about LGBTQ events held in solidarity with the Black Lives Matter movement. Most notable was an event held in Richmond, Va., which served as capital of the Confederacy, hosted by Diversity Richmond. The June 27 event, called "Stonewall Rising: LGBTQ March for Black Lives," commemorated the work begun by transgender activists of color Marsha P. Johnson and Sylvia Rivera.
IN THE NEWS
Volume 22
Issue 4