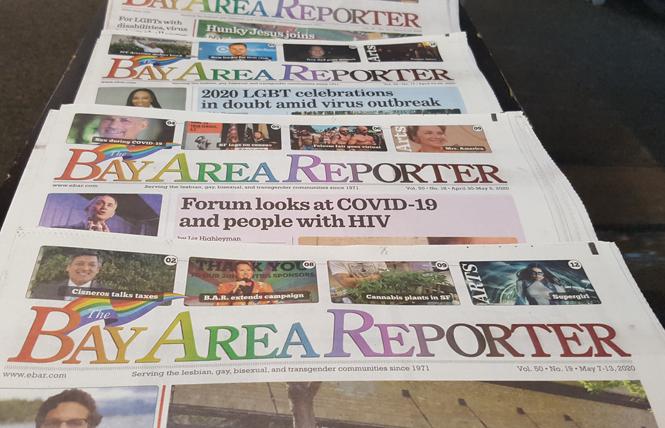 Guest Commentary: Support exists for local news, but we need help
by the Bay Area Reporter
(The following editorial appeared in the May 13, 2020, edition of the Bay Area Reporter, based in San Francisco. It is reprinted here with permission.)
As the Bay Area Reporter forges ahead with its crowdfunding campaign to keep the newspaper operating during these difficult times, it was heartening to read a recent Gallup research paper that stated Americans agree that local news outlets should receive COVID-19 relief. While most of those surveyed did not rate federal financial support for local news as a top priority — only 9 percent — as research author Jeffrey M. Lyons pointed out, it's a hopeful sign indeed that any percentage of Americans is willing to support the idea of some sort of government funding.
Lyons' report is based on a recent Gallup/Knight Foundation survey from internet interviews conducted April 14-20, with a random sample of 1,693 adults, ages 18 and older, living in all 50 U.S. states and the District of Columbia who are members of Gallup's panel.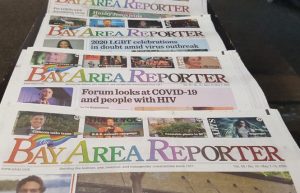 Photo by Cynthia Laird
According to the report, about half of Americans say they are very (14 percent) or moderately (35 percent) concerned that news organizations in their local area will be harmed by the financial downturn. "Concern is greater among those who pay a great deal of attention to local news, who currently subscribe to a local news source, who indicate a strong attachment to their local community, and who have a positive opinion of the news media, generally," the report states.
But the number of unemployed Americans makes it unlikely that many can afford to pay for local news gathering. Twenty-eight percent of those surveyed say they currently subscribe to, donate to, or otherwise personally pay for local news. Among those who do not, just 13 percent say they are likely to pay for local news in some fashion in the coming year, with only 2 percent saying they are "very likely" to do so.
As a free weekly newspaper, the BAR does not currently rely on reader subscriptions, nor do we have a paywall on our website. Our primary source of revenue comes from advertising, which has cratered during the coronavirus pandemic because so many businesses are closed. That is why we started the Indiegogo campaign over a month ago, and why we still need assistance from you.
As we reported last week, our campaign has been extended because an anonymous donor has pledged to pay for transaction fees if we achieve our goal and to match contributions beyond it (until June 1). So the amount raised above $30,000 will be doubled to support journalism at San Francisco's independently owned, legacy LGBTQ+ community news source. As of this writing, we've raised just over $25,000, or 83 percent of our goal. Donations seem to have tapered off, and we really need your support to cross the finish line.
So far, federal relief for the BAR from the Paycheck Protection Program is in process but has not yet materialized, and we did not receive one of the Facebook journalism grants that the social media company announced last week. We are waiting for answers to our applications for city programs and other grants, but the situation for us at this point is grim.
The cancellation of San Francisco Pride's in-person parade and festival meant that we wouldn't have a huge Pride edition, our biggest issue of the year that typically draws in advertisers who want to let our readers know they support the LGBTQ community. But we'll need the support of potential advertisers beyond just LGBTQ Pride Month. And we're extremely grateful to those advertisers who continue to support us.
"The coronavirus situation provided the local news sector with an opportunity to convince the public of the vital role it can play in shepherding them through a crisis, something Americans largely acknowledge," the Gallup report states. Whether it's a mainstream paper like the San Francisco Chronicle or a scrappy weekly like the BAR, now more than ever people are depending on local news outlets. We're publishing articles about how the public health crisis affects the LGBTQ community in myriad ways — scientific advances, nonprofit operations, available services, even hooking up. But we can only continue to do that if we continue to raise capital.
Just about every sector of the economy is in dire straits, so we are especially thankful for the hundreds of people who have already contributed to our campaign. But honestly, we need more help. To donate, go to

https://bit.ly/3cmN5SI
Please help our freelancers and staff, and keep the BAR going in these tough times. For info, visit our

IndieGoGo campaign

.
GUEST COMMENTARY
Volume 22
Issue 4