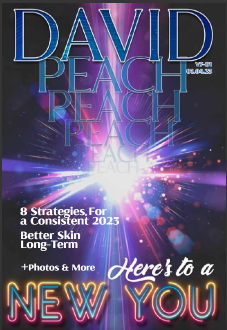 David Atlanta is back, while Peach ATL, which took David's place, shuts down
by Joe Siegel
Atlanta's David Magazine is back after a six-year hiatus. But Peach Magazine, which was launched in 2017 to take David's place, has now shut down.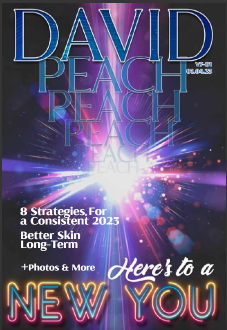 "Due to some ownership issues in 2017, it was decided to rebrand the title as to avoid any confusion under Peach Media & Printing," explained editor in chief Mikkel Hyldebrandt. "Now, we decided to return to David with many of the experiences we learned from Peach over the past years."
Peach Media and Printing is being managed by Brian Sawyer, who oversees the publication of Goliath Media and Fenuxe Magazine.
David has had a tumultuous history, having been in the control of several owners through the years. Founded in October 1998, David was brought to Atlanta by Andy Jones to serve as an entertainment and lifestyle magazine for the Southeast. It was the successor to a line of gay magazines dating back to 1968, beginning in Jacksonville, Fla., with founders Henry C. Godley and Mark W. Riley.
In 2003, the publication was bought by United Media, then-publisher of the Southern Voice in Atlanta and the Washington Blade. D.C. David was merged into now-defunct Window Media in 2005.
David Atlanta Magazine was owned by Window Media until Window Media closed operations and ceased publication in 2009. In 2010, David Atlanta returned to publishing weekly issues after being purchased from bankruptcy court by Gaydar Atlanta. In August 2010, David Atlanta was sold along with Southern Voice to DRT Media. The August 11, 2011, issue was the first under new ownership.
Peach ATL was launched by some of David's former staff members in 2017.
This disclaimer appeared on the Peach website: "DAVID Magazine, now Peach, came about after a change in marketing strategy that we felt better reflected the great state and city we live in around July of 2017 where the magazine also underwent a complete relaunch of its editorial profile to become an even stronger resource and support for our vibrant LGBTQ community."
"As we told readers of our inaugural issue, Peach ATL is like a great remix," publishers Mike Fleming and William Duffee-Braun told Project Q in 2017. "Much of the song remains the same, all the best hooks are there, and there's an unmistakable new energy. We also hear readers loud and clear who formed an opinion of the magazine during temporary but tenuous circumstances in its history, including a lack of diversity or an unnecessarily oversexed aesthetic. We will take this opportunity to address those concerns.
"When the most recent owner, David Thompson, decided to cease publication as the David name's fourth owner in 19 years, we had already come to the conclusion that Atlanta deserved a fresh start from all that baggage, good and bad," Fleming and Duffee-Braun added. "We also heard that continuing to operate under the name, which was named after the statue of David in the Renaissance-loving, circuit-centered 1990s, was too milquetoast and stereotypical for today's audience."
Although Peach is now defunct, the archives can be accessed on David's website, which is https://peachatl.com.
The past few years have been challenging for LGBTQ media, but David has endured due to enthusiastic support from Atlanta's advertisers and readers, Hyldebrandt said.
"One of the most significant lessons was that despite a pandemic, lockdowns, and changing media habits, David remained a strong brand throughout it all," Hyldebrandt said. "So, now that Atlanta is experiencing a bit of a resurgence and reshuffle of the nightlife scene, we decided that it would be a good time to relaunch David Magazine."
Readers have responded favorably to David's return, although there is a possibility Peach might make a comeback, Hyldebrandt said. "Peach was also a strong brand, so we have discussed that it might come back as a limited edition publication or maybe on a slightly more lenient schedule once the new David is all settled in as Atlanta's new favorite weekly."
IN THE NEWS
Volume 25
Issue 1