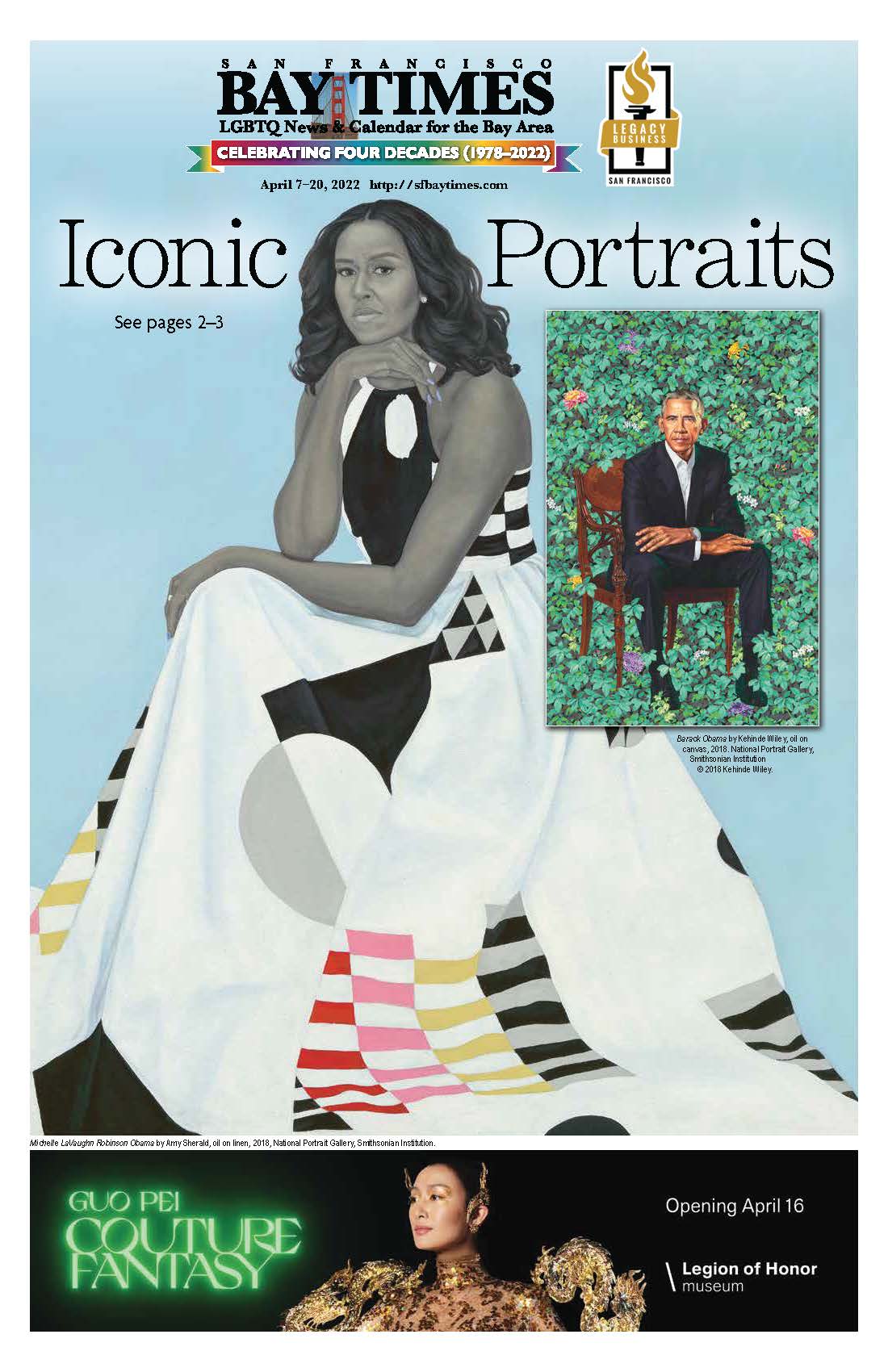 San Francisco Bay Times offers hope with front-page images of Obama portraits
by Fred Kuhr
Under the banner headline "Iconic Portraits," the San Francisco Bay Times featured the work of out gay artist Kehinde Wiley on its front cover.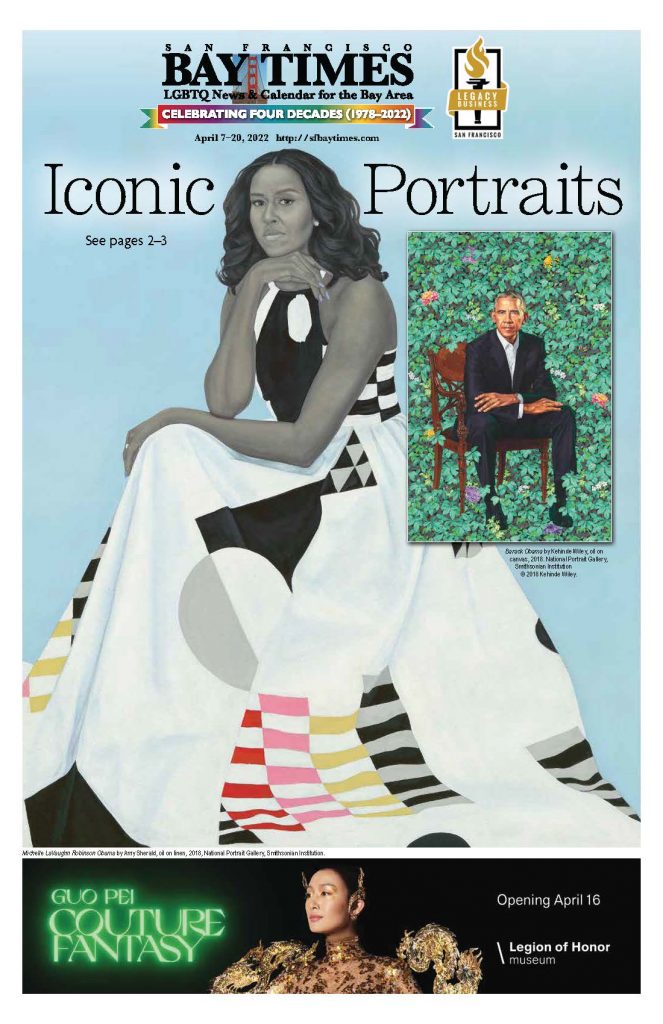 Wiley's portrait of former President Barack Obama, along with Amy Sherald's portrait of former First Lady Michelle Obama, appears on the newspaper's April 7, 2022, cover to preview The Obama Portraits Tour, which opens at the de Young museum on June 18.
Wiley and Sherald are the first Black artists selected by the National Portrait Gallery, part of the Smithsonian Institution, to create presidential portraits. Wiley is the first openly gay artist to receive the honor.
In an unsigned editorial explaining the choice of its cover, the newspaper calls the portraits "a much-needed injection of hope."
"Hope refers not just to the word featured on former President Obama's memorable first presidential campaign poster (designed by Shepard Fairey of the Shepard Fairey Equality Project benefiting LGBTQ rights), but also to significant shifts toward social justice marked by the Obama presidency and its legacy, as well as to Wiley and Sherald's achievements," the newspaper stated. "Portraits can sometimes reveal as much about their creators as they do about their subjects, evidenced by the visually striking paintings of the Obamas."
Tom Campbell, director and CEO of the Fine Arts Museums of San Francisco noted in the Bay Times, "Kehinde Wiley's portrait of former President Barack Obama and Amy Sherald's portrait of former First Lady Michelle Obama are groundbreaking American portraits that speak to the sense of hope and possibility that the Obamas inspire. Both Wiley and Sherald are artists who work within the genre of Western portraiture painting, while actively expanding, and critiquing artistic conventions that have traditionally defined representations of power."
The newspaper noted why it wanted to give its front page over two these two images.
"Another aspect of hope for us at the San Francisco Bay Times concerning The Obama Portraits Tour is that the paintings represent and contribute to the lasting importance of the Obamas, who are still active and influential leaders," the newspaper stated. "The portraits, which will continue to draw widespread interest, will also hopefully encourage viewers of all generations to appreciate this art form and the quiet, meaningful contemplation it can inspire. In an era of here today, gone tomorrow Snapchat selfies, the Obama portraits provide a refreshing reminder that thoughtfully presented images can hold lasting importance and be of great value. We strive for at least the former with our biweekly publication and its team of designers, led by talented Beth Greene, and photography team led by legendary Rink."
The newspaper also promotes the importance of seeing these works in person.
"Wiley's painting, which is a towering 84.1″ x 58″ oil on canvas work, presents the 44th president in near life-size form. Viewing it in person offers a palpable experience of magnitude in all respects. The painting promotes intense study to appreciate all of its details, from the bold to subtle. The same holds true for Sherald's work, which is a 72.1″ x 60.1″ oil on linen. To further inform viewers and to add another sensory component, the installation will include an eight-minute-long video featuring the curator and artists discussing the historical and artistic significance of the portraits."
For more on the Portrait Gallery and the full tour schedule, go to https://tinyurl.com/2rx3hhjf
IN THE NEWS
Volume 24
Issue 2